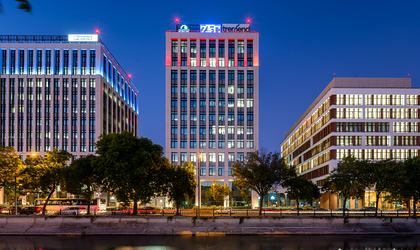 Vastint Romania received LEED Platinum certification for the third building of Timpuri Noi Square, becoming the developer with the highest-ranked LEED PLATINUM buildings in Romania.
The third office building of Timpuri Noi Square project has reached 92 points in the certification process, helping Vastint hold the first 5 places in the Romanian top. After Business Garden Bucharest office buildings reached the third-highest LEED score Worldwide for building A, for Core & Shell category at the end of 2019, with 98 points and second place in Europe, followed closely by the other two buildings B & C and becoming the office project with the highest LEED score in Central and Eastern Europe (CEE), and the other two buildings of Timpuri Noi Square were already certified in 2018.
LEED, or Leadership in Energy and Environmental Design, is the most widely used green building rating system in the world, available for virtually all building, community and home project types, providing a framework to create healthy, highly efficient and cost-saving green buildings. LEED certification is a globally recognized symbol of sustainability achievement.
"Our main objective in Vastint was to deliver not only good looking projects, but also viable ones, that will ensure our tenants that we are a highly trustable partener. We are confident that all these efforts have driven our projects to such amazing results. Business Garden Bucharest and Timpuri Noi Square are now certified LEED PLATINUM, with the highest score in Romania.

Vastint is aiming to reduce energy and water consumption as well as overall operational waste through its sustainable projects. Obtaining LEED Platinum certification with one of the highest scores Worldwide, shows recognition for the efforts that our team has made. We aim for the same high green certification standard for all our projects, including the next phase of Timpuri Noi Square and the ones that will come in the near future." Says Antoniu Panait, Managing Director, Vastint Romania.
Considering the current concerns regarding sustainability and environmental, it is very important to prove, with the help of a worldwide acknowledged certification, that a modern building is able to provide efficient, comfortable and sustainable office space that saves energy, water and resources, generates less waste and supports human health. This reduces operational costs and boosts employee productivity and retention.
Employees working in both Business Garden Bucharest and Timpuri Noi Square benefit from a high indoor environment quality with a silent, healthy air conditioning and ventilation system, thermal comfort control, energy-saving electrical equipment, full LED lighting and water use reduction technology. Its location near multiple means of transportation provides easy access by subway or any other means of public transportation. Parking includes priority spaces and cyclist facilities that include both dedicated parking spaces, as well as showers and lockers.