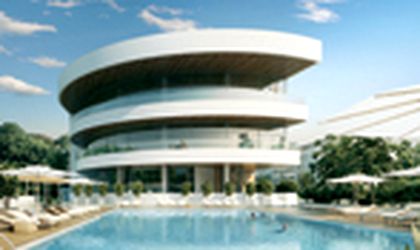 The developer bought the piece of land in 2004 and demolished the existing buildings, according to Constantin Merlusca, head of the real estate division with Tiriac Holdings. Construction works are underway for the first phase of the project, to deliver 286 apartments from the first quarter of next year.
"We have decided not to sell apartments off plan, but wait until this stage, when we can present a showroom," said Merlusca.
Apartments in the project, to cover between 100 and 600 sqm each, will be priced from EUR 350,000 to EUR 1.8 million, according to Merlusca.
The project will include 19 buildings on four floors, and 1,230 parking places, on some 5.5 hectares. Two hectares of the plot will be allotted to a residential club and the rest will be covered by green areas.
This year, Tiriac Imobiliare will start construction works on a mixed project in Timisoara and one in Brasov, for which construction permits have already been received. The project in Timisoara will include a shopping mall which will be built in partnership with Spanish developer Riofisa, and will also feature apartments and offices. The one in Brasov will include a hotel plus retail, residential and offices. Each project represents more than EUR 100 million of investment.
The developer is planning a residential project in Sibiu and a mix of commercial and logistics for Timisoara and Brasov. The projects will be anchored by the group's auto division.
Tiriac Imobiliare has planned EUR 900 million real estate projects by 2010, including a business center in the Buzesti area of Bucharest and an industrial park on the Bucharest-Pitesti highway, close to the Portland Trust's one.
The company will also build a EUR 205 million industrial and logistics park in the Otopeni area of Bucharest, which will include the existing Tiriac Expo building. The project will include 60,000 sqm of exhibition space, a hotel and a conference center on 10,000 sqm and 900,000 sqm of warehousing projects. Targu Mures is among the targeted cities for Tiriac Imobiliare, with plans for shopping and leisure facilities.
Corina Saceanu