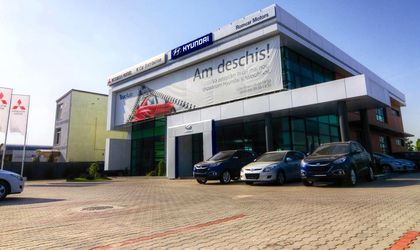 Tiriac Auto has opened its first joint Mitsubishi and Hyundai showroom in Bucharest through its companies M Car Distribution and Romcar Motors.
The outlet is located in the Berceni neighborhood and covers a 1,200-sqm surface on two levels: ground floor and first floor.
Company representatives say that the new location is part of the company's plans to expand its network geographically, and is in an area with good visibility and traffic. At the same time, the showroom is situated close to the two Mitsubishi and Hyundai services in the area, thus offering customers specialized and standardized sale and post-sale services close by.
The new showroom has separate reception areas for the two Asian car brands, a playground for children and a specially designed area for the presentation of the Auto Avantaj range, its own service center for selling new cars through the trade-in and buy back methods. The service has recently been implemented at a national level throughout the Tiriac Auto distribution and service network.
Tiriac Auto sells the following car brands: Mercedes-Benz, Dodge, Chrysler, Jeep, Mitsubishi, Land Rover, Jaguar, Ford and Hyundai. It has 14 dealers in its national network with over 65 mono- or multi-brand locations.