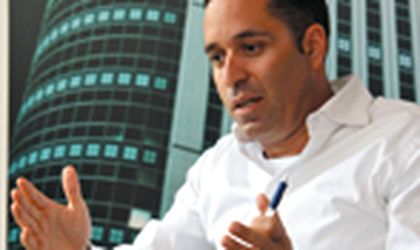 The partnership between Israeli Ocif Group and an investment fund managed by LCF Rothschild Group – which brought the latter onto the Romanian market through a partnership for the first time in 2006 – started through people. "The group of managers at Rothschild is made up of Israelis and we knew them. Israel is a small country and the real estate market there is also small. They started to come to Romania, as they wanted to start investing in the country. They looked at our first project and decided it was interesting to them," Bar, co-general manager of Aviv Ocif in Romania, tells Business Review.
Now, the Israeli developers are fifty-fifty partners with the Rothschild bankers in the two projects they are building in Bucharest. The investment fund managed by Rothschild, EdR Real Estate Eastern Europe SCA, SICAR, moved in back in 2006, when Ocif had already bought the first plot of land in Bucharest and was going through due diligence for the second.
The Rothschild family had already benn investing indirectly in Romania, through TriGranit, which is developing the Esplanada project in Bucharest. TriGranit has built Polus Center shopping mall in Cluj-Napoca and is underway with a similar scheme in Constanta. In 2006, Nathaniel Rothschild, chairman of TriGranit, came to Romania for the official presentation of the Esplanada project, when he said the firm could also invest directly in the Romanian market.
With financing less of an issue for Ocif Group, Bar is in no rush with sales of the first project, Vivando Unirii. Of the 110 apartments in the project, for which construction is soon to go above ground, Bar has sold around 30 percent. "The first category of buyers was people we know, some of them Israelis, who bought one or two apartments each as an investment. The other category is local buyers," says Bar.
The second residential project, to be located in Pipera, is currently in the design phase, and should comprise more than 1,000 apartments, with an estimated time for construction of around six to seven years, in several phases. The exact timeline for the project depends on the market demand and also on how the area evolves and when the infrastructure is in place there. The two projects should bring total investments from Ocif and its Rothschild partners to around EUR 200 million. Despite high land prices and increasing construction costs, Bar expects at least 25 percent profit on the cost of the residential projects the company is building in Romania. Otherwise, it would make no sense to leave a market like the one in Israel, which yields a profit in the region of 10 percent, travel back and forth to Romania and establish operations here.
Bar is underway with negotiations for some other plots of land in Bucharest, where he wishes to build offices on small plots in central locations. He is also looking at other cities in Romania, such as Timisoara, Cluj-Napoca, Constanta and the coast, which would be interesting for more residential schemes, says Bar, although he complains that these markets seem to be blocked for transactions with land.
Buying land in Romania was a challenge for the Ocif group, a new entrant on the market in 2006. "If I were to go back two years knowing what I know now, I would do things differently. Nobody could have predicted land prices would go up so much," says Bar. His company has learned that flexibility is needed to seal the deal and that the market was tricky in many ways. "At the time, I thought the prices were too high, I could not know that half a year later, I would be willing to pay 50 percent more than the first price offered," he says. Flexibility is also needed in order to shake hands over good plots in Bucharest. He remembers having checked at least half of the land plots on which projects are now underway in Bucharest.
For the first plot Ocif bought, the one on 11 Iunie Street close to the Unirii area, negotiations took a while, but the process was a little easier for the nine-hectare plot in Pipera that Ocif has bought from local businessman George Becali, with whom the Israelis negotiated directly. Overall, Ocif has invested around EUR 25 million in land in Romania so far in the two plots.
For the group, which builds offices, residences and retail projects in Israel, Romania was not the first choice in the region. Initially, Bar and his current partner in Bucharest, Ramon Amit, were trying to move into the real estate business in Croatia with a mixed project next to the Adriatic Sea, but as it became clear that the market was not as developed as they had hoped, Romania was the next choice.
"The perfect time to enter a market is when you realize that the risk there is lower than people are expecting it to be," says Bar. "Five or six years ago, when you were telling people in Israel about doing business in Bucharest, Romania, their response was: are you crazy? You will lose all your money," the co-manager remembers. Bar has been living in Bucharest, where he owns an apartment, for the last two years, flying in and out of Israel for business meetings.
Two years ago, Ocif was in negotiations for a plot of land in Brasov for a shopping center, Bar remembers, with an asking price of EUR 300 per sqm. First, Ocif wanted to form a partnership for the projects, but in the end decided to withdraw. "I saw the same plot on sale again two or three months ago for EUR 1,000 per sqm," he says.
While residential is covered and offices could represent a target if the opportunities arise, Bar doesn't think Ocif will build retail sites in Romania. At the moment, the company is constructing five residential projects in Israel. It has built several office buildings in Israel, including Aviv
Tower, the highest office building in Tel Aviv.
The entire group also comprises a construction company called Aronson, which is scanning the Romanian market with a view to expanding the construction business locally.
By Corina Saceanu