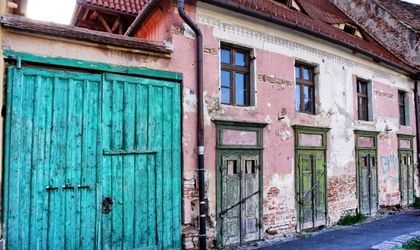 The oldest house on sale in Romania is in Sibiu and it is the merchant's house on Turnului street. This property's history starts around the fourteenth century. It has been accurately dated by specialists after the remains of a Gothic sprocket found in the attic of the house. Now, the house is being auctioned by Artmark Historical Estate, with a starting price of EUR 235,000.
Located in one of the most picturesque areas of the old town, in a historic square of the "Lower Town", the building is part of the small circle of urban residences, built between the 1300s and the 1400s. By comparison, the oldest house in Bucharest, the Melik House – currently the Theodor Pallady Museum, has a history of only 250 years.
A historic monument of exceptional value, the house is today a notable presence in the urban landscape of Romania's first city to have obtained the European cultural capital status. The massive roof, the special shape of the construction and a number of architectural elements – that are only scarcely present in the other buildings in the old centre of the former Saxon burg –, are some of the elements that individualize it.
The building belonged to the Butcher's Association in the beginning of the twentieth century, and several commercial spaces operated on the ground floor. The house later became the residence of piano player Maria Klein Hintz, and afterwards it became the property of the Romanian merchant Ilie Floasiu until its nationalization by the communist regime.
Currently, the house built on an 196 sqm plot of land, of which 189 sqm are occupied by the building's footprint, is undergoing a painful restoration process. The works started in 2007 and have ceased for the time being, but it has been saved from extinction.
Even if there are still things to be done, the merchant's house on Turnului Street is already an attraction of the area. The owner often made it available to young artists looking for unconventional spaces, thus art exhibitions and theatre plays took place between its walls. Its location in the heart of the old town tells a lot about the future of the property.
The tourist and commercial potential are ensured by the proximity to the main attractions in Sibiu. The Great Market, the Little Market and Stairs Passage are just a few hundred meters away. And the immediate vicinity of the building is rich in stories that promise the success of any marketing campaign.
The monogram on the frontispiece of the building, dated in 1704, marks the year when merchant Martin Wenkel receives the property, along with the noble title, from Emperor Charles VI. A monastery, a prison, and the first brewery in Romania wrap up the list of historical buildings on Turnului Street, an artery where an important page in the history of Transylvanian trade was written.
The sale price estimated by Artmark is around EUR 350,000.