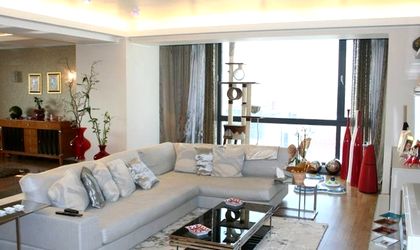 The ideal apartment for Bucharest inhabitants is a two-bedroom one, with 1 in 2 people saying that they want to buy such a home in the near future, according to a study made by AFI Europe Romania in partnership with Unlock Market Research. Among the criteria for selecting an apartment are bright and airy spaces, but also the presence of windows in both the kitchen and the bathroom.
An interesting fact revealed by this study is that approximately 50 percent of respondents would prefer to have an apartment in a residential complex, mainly due to the facilities offered, such as green spaces, proximity to different types of shops and wellness centers, the existence of some relaxation areas, high levels of safety or quality of life within the complex.
To address a range of housing options, AFI City offers for sale studios, 1-bedroom and 2-bedroom apartments in a community that offers a wealth of facilities such as green spaces, kindergartens and shopping centers, as well as recreational areas within the complex.
Regarding the height regime, Bucharest preferred buildings with a maximum of 6 or 10 floors and 4 out of 5 people would prefer to have an apartment located between the first and sixth floors. Moreover, 73 percent of respondents said they would prefer a self-heating apartment and 60 percent opt for apartments with air-conditioning systems.
AFI Europe Romania started in June the first phase of the AFI City complex, the largest residential project of the company in Romania, with an investment of EUR 16 million euros. The first phase of the project will deliver 2 buildings that will cumulate 190 homes, served by 228 over-ground parking spaces. This stage of AFI City construction will be completed in the summer of 2019. Once completed, the residential project will include a private community surrounded by green areas, sports facilities and playgrounds. In addition, AFI City enjoys an important advantage, proximity to Laminorului Metro Station, right in front of the residential project.
Information sources in buying a home
According to the study, consumers tend to collect information from a multitude of sources when they consider buying an apartment. Thus, the main sources consulted are official, such as real estate agencies (62 percent) and specialized sites (60 percent). The secondary sources are the recommendations of friends and relatives (57 percent).
AFI Europe Romania's statistics on consumer trends in the online environment of people interested in purchasing a home show that men and women aged 25-44 are equally active in search of an apartment. Also, 4 out of 5 people looking for a home use mobile devices and are mostly interested in one-bedroom and two-bedroom apartments, as well as the location of residential complexes in or near the city.
The study was conducted by AFI Europe Romania, in partnership with Unlock Research, on a sample of 500 respondents among the inhabitants of Bucharest aged 25 to 55.