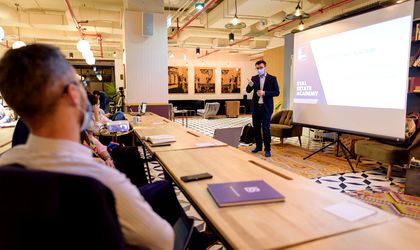 BUCHAREST REAL ESTATE CLUB (BREC) announces the start registration for the third edition of REAL ESTATE ACADEMY program, the first 100% private education in the real estate sector in Romania.
BREC ACADEMY covers the entire educational spectrum regarding the local real estate market and runs from September 2022 to May 2023. The program is similar to a master's degree, containing 12 study modules – the most important topics of interest regarding the real estate market: residential development, buildings and parks of offices, retail, logistics parks, real estate investments, hotels, real estate financing, legal real estate, real estate brokerage & consulting, asset management, property marketing & communications. This year's novelty is the mixed-use sustainable development module.
The lecturers are successful managers and entrepreneurs with experience in the real estate market, such as Tatian Diaconu, CEO, Nhood Romania, Antoanela Comșa, President of Gran Via, Sînziana Pardhan, Managing Director for Romania – P3 Logistic Parks, Alina Alpaslan, Finance Director, Skanska Property Romania, David Canta, Principal, Romania & Czech Republic – Avison Young, Mircea Drăghici, Managing Director – EST Hospitality Consulting, Răzvan Testa, Partner, Țuca Zbârcea si Asociații, Despina Ponomarenco, President of BREC and Managing Director Verbio.
The study modules are covering a practical and useful perspective on the real estate market: case studies and analyzes on real estate projects well – known in the market, financial modelling or the most common issues faced by a developer or investor in the Romanian reality of the real estate market. The courses are held in physical format, two weekly sessions.
Who can register to BREC REAL ESTATE ACADEMY:
Professionals already working in real estate or other sectors(banking, investments funds, brokerage companies, consultancy, etc.) aiming to complete their knowledge with a round, 360 degrees approach on real estate market.
Corporate representatives of various departments of companies activating in the field of real estate or with adjacent activities, who want to complete their knowledge.
Graduates of state or private universities of any profile or students in their final year who want to build a career in real estate or complete their knowledge with a practical perspective on the field.
Registration and fees:
Applications must be sent by September 7th 2022, by e-mail to bucharest@brec.ro and must contain a brief description of the most recently completed studies and the candidate's professional profile.
The program admission fee is 2.000 EUR paid in two installments: 1.000 EUR by September 15th 2022, respectively by January 8th, 2023. A 5% discount is applied on integral payment.
A total number of 56 participants graduated from the first two editions of BREC REAL ESTATE ACADEMY, the graduates being mainly active managers in the market – in development companies or real estate funds, architectural offices, construction companies, consultancy and banks, people who have wanted to supplement their knowledge with subjects adjacent to those in which they are active.
More information -> https://brec.ro/real-estate-academy-2022/