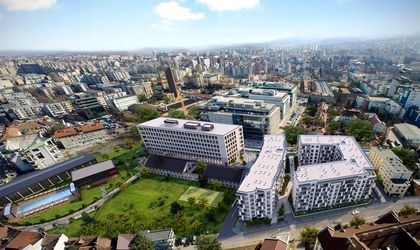 Real estate development company Speedwell, led by Jan Demeyere and Didier Balcaen, which has been active on the Romanian real estate market for more than 15 years, has signed contracts for 120 of the 158 apartments (75 percent) in the first phase of the Record Park project in Cluj-Napoca.
The Record Park mixed project is being developed on a 17,000-square-meter plot of land with 36,000 square meters of built area and will include 236 apartments, 12,000 square meters of offices, 1,000 square meters of commercial space and 7,000 square meters of green spaces.
Located on Onisifor Ghibu Street, at an approximately equal distance to the city center, the industrial area, the airport and the residential area of ​​Floresti, the investment in Record Park will amount to about EUR 40 million.
The project includes the former Record recreational base, and the former Argos industrial platform, and the building will be preserved, upgraded and embedded in the project. The old, industrial heritage site, preserved and integrated into the new urban structure, can be used as a research, innovation, technology, creative industries, and public catering centre, according to PUZ.
Even though land prices are rising again due to the improvement in the economic situation over the last 3 years, Speedwell continues to look for suitable locations at an affordable level, focusing on analyzing large-scale land plots, or finding elements that add value to development.
Although the Bucharest market remains one of the main points of interest of the company, Speedwell has expanded to Cluj-Napoca with the Record Park project and continues to analyze other secondary and third cities such as Ramnicu Valcea, Ploiesti, Trei Brazi and Galati.
In Bucharest, Speedwell recently completed the construction of the Unirii View office tower and started the construction of the Triama Residence residential project, consisting of 202 apartments, located near the metro and RATB lines in Sector 2, as well as all the urban facilities: supermarket, shopping center , parks, educational institutions, hospitals.
The exclusive partner for the residential segment is Imoteca, the residential experts, and for the office segment – Griffes. In addition, Speedwell acquired a total of 70,000 sqm in the Baneasa area and intends to start a new 25,000 sqm residential and office complex with unique features for the Bucharest market, both planned to start construction in the second half of 2019.