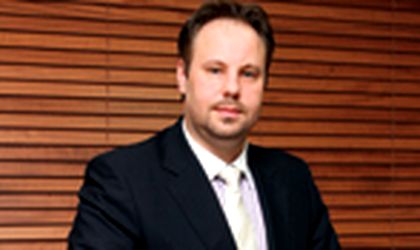 Four years ago, the South Pacific group was testing the waters of Romanian real estate with a first housing project, in collaboration with the Romanian Ministry of Defense. Four residential projects later, the developer has changed the entire strategy of the business again. It is looking at launching two residential projects built with ecological construction materials, and even at setting up a factory to produce those materials locally.
The two projects together should cost around EUR 80 million to build, depending on whether the company is able to set up the factory in Romania, or gets materials from the UK. Financing for one of the projects has been agreed upon, but depends on the level of pre-sales.
"Last year we sold half of the business to private equity fund Warburg Pincus. Everybody in the world of finance is taking a conservative view, so we are not drawing from those funds because of the global economic outlook. But when things start to smoothen out and settle down, we'll have a funding line available through there," says Andrew Prelea, CEO of South Pacific.
To help boost house sales, the developer has come up with a rent-to-buy program, "to allow people to get into the property market when the market is low," says Prelea. "We need to make sure we have clients. We are delaying our profits and equity return for the future, but at least we have a future, which is very important," he explains.
Despite seeing residential sales stalling, Prelea believes the restrictions on lending in Romania have been a "blessing", because it has kept housing debt at low levels compared to other countries in the region.
"It has affected our industry because of caution," says the CEO. But he expects the recent softening of lending regulation by the Central Bank to eventually have a real effect on the economy, all depending on banks.
"We are doing mortgages now with BCR for our clients, and loans are being approved. Of course, the lending criteria are a lot stricter than one or two years ago, they are lending to people who should be lent to. This is the upside of the global crisis, we go back to old fashion banking, to lending to people who can afford it," says Prelea.
The next two projects that South Pacific will build in Romania, both located in the northern area of Bucharest, will cater to the new market demand, says the CEO. The Darwin project, to be launched soon, will sell almost half of its apartments for under EUR 100,000 per unit, while all the homes from the next one, the Hobart residential project, will cost less than EUR 100,000.
Having gone through the development cycle last year, South Pacific expects this year to be about sales. Prelea's pessimistic target is to sell at least 100 units in the Darwin project, out of a total of 255. "Optimistically, I would like to sell out all of Darwin and the rest of my stock, and the next project to come," he says. The developer has managed to pre-sell 71 percent of its already launched projects.
"We are working on a volume business and a low margin, that's why we manage to keep everything under EUR 100.000. We are using the same strategy as in car manufacturing," says Prelea, adding that the ideal margin is between 15 and 25 percent. Sales at its Darwin project will be a real indicator of where the market will go, says the CEO, who is even planning to offer a financial product similar to housing banks, for people to save for a specific home.
The firm's rent-to-buy program uses a similar model: some of the monthly rent goes into a savings fund, which after two years of renting becomes down payment for the apartment, if the customer decides to buy. The strategy means those who rent save up to 20 percent of the price of the apartment. If market prices go down, the buyer can negotiate a new price, and if they go up, he or she gets to buy at the pre-established one, says the CEO.
South Pacific's other planned venture, a EUR 300 million grand prix circuit close to Bucharest, has been put on hold. "The upfront payment required, in this environment, was commercial suicide. Getting tenants is very difficult, and the car market is on a downturn, and this was the backbone of the development. We still want to proceed with a project of that type, we haven't put it away completely, but financing a project of EUR 200-300 million right now is impossible," the South Pacific CEO says.
"There are some things as a developer you should always believe in. Don't leverage on assets that don't produce income. And don't believe your own valuations. I learned the last one from my first property lawyer when I was 17," says Prelea.
What does a real estate downturn teach real estate professionals? Prelea says it shows that "we should always rely on the domestic market, not on foreign investors, on the speculator market, to fuel property sector." He's been through three downturns in Australia: in the late 80s, when the stock market crashed, in the 90s, when the Japanese market collapsed and when Nasdaq dropped, all impacting on his local property market.
By Corina Saceanu