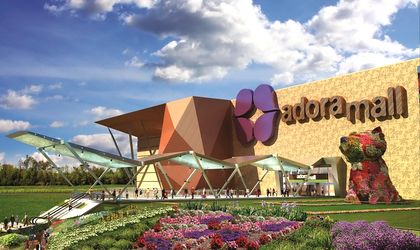 Portuguese developer Sonae Sierra has re-branded its Craiova-based shopping mall as Adora Mall and signed a leasing contract with cinema operator Cinema City. The 59,000-sqm GLA shopping mall has already been 60 percent leased, with Cinema City occupying 3,000 sqm of the retail surface. The leasing contract was intermediated by CBRE Eurisko. This is the sixth project in Romania in which Cinema City will have a multiplex unit. Sonae Sierra had previously said that it had halted construction works on the Craiova project due to lack of financing, although the leasing process was in an advanced stage.
"We intend to start construction works as soon as possible, but only after we have all guarantees related to the project's construction timing will we be able to announce them. We are working on the project's design, architecture, sustainable solutions, leasing, financing and marketing strategy in order to be able to advance in all the project's specifications for the development of Adora Mall. As for the tenants, we are under negotiations for the announced 60 percent pre-leased GLA, but as happened with Cinema City, we only announce our new tenants once the definitive contracts are finalized," said Ingo Nissen, country representative and development manager for Romania.
The shopping mall is said to require a EUR 140 million investment. Sonae Sierra owns 52 shopping centers in seven countries. In Romania, the developer has a shopping city in Ramnicu Valcea, River Plaza Mall. The Portuguese firm was also partnering Caelum Development in developing Parklake Plaza project in Bucharest, a project which has been halted, according to the most recent information.
Corina Saceanu