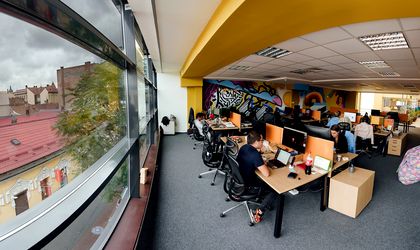 Silicon Forest, a coworking space and technology hub, is planning to open a second location in Cluj-Napoca. In the first location, from the summer of 2018 until now, Silicon Forest has reached an occupancy rate of 80 to 85 percent, which is great for a business of this type. Most customers are small and very small companies, while the number of freelancers is between 25 and 30, depending on the month.
Silicon Forest started out as a space for coworking and a technology hub that would meet the greatest need for start-ups and freelancers: a modern workspace, for which the price is tailored to your needs. Currently, 20 percent of the Silicon Forest space is occupied by freelancers, with the remaining 80 percent coming from companies. In the first year of business, the company managed to attract clients from IT and related fields, such as Digital Marketing, SEO, Design, Automotive Design, AI, Programming, but also PR and event management agencies.
The most important feature of such a space is that the price for rent is according to your needs. An example of this is a product company in the United Kingdom, Winnow Solutions, which started with a three-man hub. In just one year it reached 30 employees. Along the way, they paid for how many people they had, which was a huge financial and logistical help. Winnow Solutions develops an innovative product that helps significantly reduce food waste in industrial kitchens, such as those in the hotel industry, restaurants, canteens and schools, using artificial intelligence.
"With the internet, it was a blast of industries of all kinds. By default, we had to change the way we work and that's what we wanted to do with Silicon Forest, to extend a helping hand to all those who are no longer in the old style of office work, but also to those who are freelancing. . What we enjoy now, when we take stock of our first year, is that we see how, from month to month, we close a community here. We see people from different companies linking friends, companies consulting with other companies, but also partnerships concluded here and projects worked together. We have, for example, the company Mejix, which develops the Dine Market product for the restaurant market in the United States of America and collaborates on the mobile application development side with another community firm, Tapptitude, and on the digital marketing side there is another collaboration, all in the community, srd-media. We have start-ups that have grown from scratch in our community and are already very promising for investors. An example would be colleagues from Bookingham, a startup that reinvents and simplifies the reservation and lead generation system for salons, restaurants, workshops and any other business in the services field. This is something we really enjoy, because that means coworking. You feel like you're never alone", said Gabriel Rusu, co-founder of Silicon Forest.
The first step for Silicon Forest, in the new space, is its preparation and for events of up to 100 people. At the same time, it will be able to host companies with more than 50 employees and sufficient parking spaces will be available. However, the tariff plan will be similar, as will the other facilities. More importantly, a Silicon Forest member, if needed, will be able to work from any location.
The location will be next to Central Park. The building is newly renovated and has a spectacular classic design. It will have approximately 1,200 square meters of available space and will benefit from all the facilities necessary for the operation of high standard offices.
The most important asset for a coworking space will remain the adaptation of the rent price to the fluctuations of personnel. Thus, companies pay exactly how many offices they occupy within Silicon Forest. If a company grows or decreases, the rent adapts accordingly to these changes.
Silicon Forest is a technology hub and coworking space in Cluj, opened last year at the end of June. The Hub was opened after an investment of EUR 200,000, in a building designed for office spaces. The building rises on 6 levels and has an area of ​​over 1,350 square meters, consisting of office spaces, a terrace and a café.