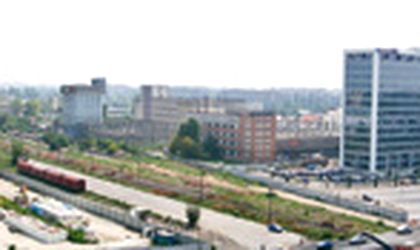 The Romanian Railways (CFR) Infrastructure holds plenty of plots to rent some and even sell, when in need. Although a public company and on the list of those to be privatized by the Ministry of Transportation, CFR has not made public a list of all its real estate properties in Romania. The land on which CFR stands might be very valuable, however, given the evaluation of some plots that CFR plans to sell. The company hopes to get some EUR 90 million for these plots, and for the moment the money will be used to pay half of its electricity debt. The seven plots total some 140,000 sqm. Despite the fact that the exact locations of these plots and their surfaces, both critical to a correct estimation of a plot's value, have not been announced, pundits suggest CFR might get more than this amount for the land. The company has announced its own internal estimation process for the plots up for bidding, but by press time, no official numbers had been issued.
Even at minimum land prices for the areas in which plots are located, CFR might get some EUR 140 million for the plots up for grabs, according to a Business Review calculation based on data from analysts. The amount is EUR 50 million higher than the official estimate. None of CFR's representatives could be reached by the time BR went to print.
CFR has chosen to sell its plots by auctioning them on the Romanian Commodities Exchange (BRM). CFR is one of the main clients for BRM – the company usually buys products and services through BRM's terminals.
CFR sells plots to pay electricity bill
"We will not be selling railway station buildings. We have plots in the company's private domain and we have evaluated them, so we will organize auctions on the BRM in September. We will sell seven plots overall, totaling more than 100,000 sqm," said Constantin Manea, general manager of CFR Infrastructure. The plots in Bucharest are located in Lujerului, Gara de Nord – Plevnei area, and Giulesti- Orhideea.
Some of CFR's plots around the country are rented out, but the revenues from rents are not that significant as the rents are lower than the market average. A construction material warehouse on the plot in Lujerului area was rented, according to company data, for EUR 0.9 per sqm per month, which is lower than EUR 3 per sqm per month, the average rent for such properties in the area. Lujerului has become an attractive area for real estate investors, as any new development there would have Cora hypermarket, Plaza Romania shopping mall and Anchor Plaza office building as neighbors. Their proximity puts pressure on land prices in the area.
It is likely that companies which are currently located on the plots to be auctioned will also bid to buy the land.
Five of the plots to be auctioned are located in Bucharest. All of them are in areas which investors might find interesting, mainly since larger plots are scarce in Bucharest nowadays. All areas mentioned – Gara de Nord-Plevnei, Lujerului, Giulesti- Orhideea – are secondary locations, which have started to turn developers' heads after central and semi-central areas became too crowded.
Orhideea area, now hosting Carrefour as major landmark, will also be at one end of the future Basarab passage. Moreover, there are several former factories in the area, some of which have already been acquired by investors and should become real estate projects, and this may raise the area's potential.
Lujerului and Gara de Nord plots are the bigger stakes
The plots in Lujerului and in Gara de Nord areas together total 13.5 ha. None of the remaining plots cover more than three hectares, according to company data, but they are nevertheless attractive.
Land prices vary with the exact location, if the plot is located close to the main road, with access to it, its value may increase by 30 percent," said Lucian Radu of Eurohouse.
The Urban Zonal Plans (PUZ), which regulate the percentage of occupied plot (POT) and the used plot rank (CUT), are also important factors in the determination of a plot's value, said Radu.
The 7.9-ha plot in Lujerului might be worth between EUR 47.5 million and EUR 94.8 million, according to market prices for the area. It all depends on the exact location. The closer to the existing Plaza Romania mall, the higher the prices, to up to EUR 1,200 per sqm.
In the Gara de Nord area, the highest land prices, EUR 1,500 per sqm, are in Plevnei and Stribey, while the lowest, close to Dinicu Golescu Boulevard, are between EUR 650 and 1,000 per sqm. So a 5.6-ha plot located around here may be worth from EUR 56 million to EUR 84 mln.
"Let's not forget land prices increase by 5 to 10 percent every two months in Bucharest," said Radu.
Selling plots through the BRM is not common in Romania, but it has certain advantages over the usual bidding procedures. "The transactions are rapid, transparent – anybody can bid – and the guarantee to be placed at the beginning of the bid is a minimum down payment," said Radu of Eurohouse.
CFR Infrastructure owes Electrica some EUR 180 million, for the June 2005-May 2007 period plus penalties.
The money made from the plots will cover half of this debt, while the rest will be covered by a state subsidy.
Corina Saceanu