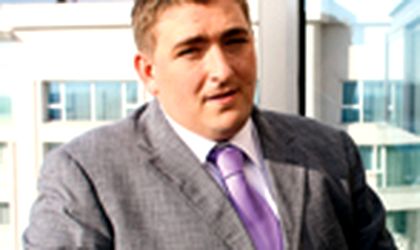 "There are ups and downs all the time, so if one buys at the peak and sells at the bottom, one should also buy at the bottom so that it compensates. Otherwise, it's like swimming against the tide. To follow the economic trends, we have to do both things simultaneously. So this is one of the reasons we are still looking at buying other apartments," Bjorn Hauge, country manager with Norwegian investment fund Romania Invest, tells Business Review.
The fund, which has almost 800 new apartments in its portfolio, said it was looking for new acquisitions when few people were expecting acquisitions to still happen, because the residential market in Romania reached a low point last year. "So continuing to buy is also a way. Now we buy at better prices, we get to reduce our average price, and cover areas we didn't cover, so we can expand the entire range of products," says Hauge.
The Norwegian fund's country manager, who trusts the local residential market will pick up because there is enough demand, and who believes more in the market for finished apartments, has been looking at several other projects since Q1 of last year, when the fund made its last acquisition.
"We did some due diligence, but we didn't buy anything. We looked at three other projects afterwards. […] We said no to a few projects based on legal or technical issues, because they were not the best projects to invest in," says Hauge.
The investment fund is looking at setting up some sales and marketing and seeing what happens in a few months, when it will decide upon its next acquisition, says Hauge, who is not ruling out the possibility of acquiring something by the end of the year.
With a portfolio valued at around EUR 100 million based on the end price of apartments, the fund Hauge runs in Romania is set to start selling apartments to end users. In less than a month, the fund will come on the market with its apartment portfolio and reveal some of its added services to attract customers.
"Optimistically, we'll sell 80 apartments by the end of this year. Pessimistically, we'll sell 30 to 40," Hauge tells BR. The fund has started talking to several foreign banks to come up with a strategy for giving loans in Romania, and this was one of the things Hauge took into account when coming up with the sales numbers.
"The new Central Bank regulations make it even better, because we can work with local banks as well," says the manager. He adds that sales depend on the company's human resources. "If the market picks up again, maybe we'll hire more people," he says. Romania Invest has recently recruited Nimrod Zvik, formerly with Seven Hills, to be the marketing manager for the Norwegian fund.
Residential investor margins unchanged, despite downturn
When it started to buy off-plan apartments in Romania, the Norwegian fund was expecting to see an increase in apartment prices of 40 to 50 percent from start of sale to end of construction. The difference, added to the discount investors get from developers for stepping into the project early, would have been reflected in the investor's margin.
Then the market stalled. Sales of new apartments dropped and several residential projects were canceled after developers failed to secure financing. Contrary to what many may have expected, investor margins in residential stayed constant, due to adjustments either of the discounts offered by developers for early bird investors, or a drop in construction prices.
"Today, I think it's roughly the same, not much has changed. Discounts from developers may be bigger, construction prices have gone down, while apartment prices haven't increased that much," says Hauge. "You should be very happy if you get a 20 percent margin per year on your investment. If you put money in the bank, you get five to six percent interest. If you can get 20 percent per year for a long time, you should be very happy. Although there are possibilities for short term higher margins."
With an exit date for the investment fund of four years from now and an option for another five years, and with enough money at hand to continue buying, Romania Invest is not rushing sales, says its country manager. "We have money to buy out all the coming projects, and we are also working on further financing solutions. […] It's hard to find financing, but the longer we stay on the market, people will see we're serious, so banks will trust us more, which makes it easier these days," he says.
So far, the fund has spent EUR 35 million on downpayments and paying for some of the apartments in full. Of a portfolio close to 800 apartments, one third is close to completion and delivery, another third should be ready in one year, and the rest after that.
One of the main advantages investment funds like Romania Invest have is that Romanians are scared of putting up a deposit for something they are not confident will be finished, believes Hauge. "We don't pay the remaining amount if we don't get what we have been promised. Our shareholders and our end users want to be safe. Individuals don't have the legal and advisory machinery we have, it would be too expensive for buying one single apartment," he says. When an investor buys a big number of apartments, it has the upper hand at the negotiation table with the developer, because if something goes wrong in the process, the investor may withhold the outstanding money.
"I can sit on these apartments for two, three years and then sell them, but the developer wants to go on to the next project," Hauge explains.
Like other real estate investment funds, Romania Invest has heard the voice of some of its shareholders, more than 500 in total, amidst the tough times in the industry. "We get phone calls at our office in Norway, but our health is good, we just need to be patient. Any investor today is a bit scared. I haven't talked to any of them, but I would guess we have such investors in our company as well," says Hauge.
Several real estate investment funds froze redemptions in the fund late last year to safeguard their funds from running out of liquidities.
Corina Saceanu