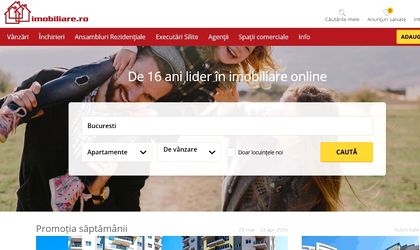 Ringier has taken over Imobiliare.ro, a local real estate online platform, from Broadhurst Investments, the company said on Thursday. The Swiss media group bought 87 percent of Imobiliare.ro from the American investment fund and one of its four founders, the rest being controlled by the remaining three, Mihnea Vasiliu, general director of Ringier Romania told Hotnews.ro in an interview this Thursday. The value of the transaction has not been made public.
The deal was initially estimated at EUR 21 million by sources cited by Profit.ro. Another EUR 10 million will be paid over the next two years, depending on the company's financial results, according to the same source. Asked about the figures, Vasiliu commented by saying these are absurd and that the transaction's value is in line with global trends.
Imobiliare.ro is the leader of the local housing classifieds' market. It was founded 16 years ago in Timisoara by Gotz Kurt, Adrian Erimescu, Ciprian Gheran and Laurentiu Andrei. Realmedia Network, the company behind the online platform, posted a turnover of RON 8.4 million (approximately EUR 1.8 million) and a RON 800,000 (approximately EUR 180,000) net profit in 2014.
"I am very proud that Imobiliare.ro, which commenced operations as an online project in Timisoara 16 years ago, has now become part of one of the largest media enterprises in Europe. This transaction will give us access to international know how and will ensure that we can make the most of national and global synergies within the Ringier Group," said Erimescu.
He will remain the company's CEO alongside the present team, according to Imobiliare.ro representatives.
Simona Bazavan