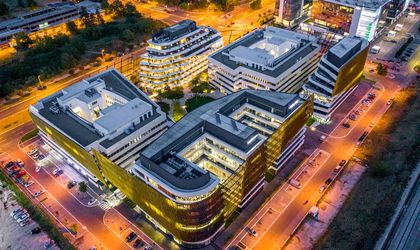 Green Heart, a unique example of best practices in sustainable and responsible development, has received the BigSEE Interior Design Award. Created together with KDA Architects, the Green Heart stands out for its clear, minimalistic concept, inspired by nature and timeless design. The award recognizes the groundbreaking revitalization that GTC has done to make Green Heart a true landmark of New Belgrade district. As a result of the company's circular approach to property management, one can now enjoy a unique green oasis secluded within five high-end offices in the business heart of the city.
Green Heart was recognized for its ultramodern interior design – the result of complex revitalization – by BigSEE, the industry awards selecting the best projects across 21 countries of the Southeast European region. Together with KDA Architects, GTC's aimed to create a green oasis framed within futuristic office campus in the bustling business center of Belgrade, while working with already existing real estate assets. The out-of-this-world interior design became the "cherry on top" element of complex revitalization GTC had been carrying out for the last 12 years. Clear, minimalistic, custom-made elements inspired by nature combined with a strong accent of floral compositions inside and outside of the buildings create an illusion of no boundaries between the office space and the outdoor environment. Thus, the tenants and visitors of Green Heart can seamlessly roam around the business campus, without even noticing the "switch" between this green oasis and the work environment.
"With the concept behind Green Heart, we wanted to show that sustainability can be minimalistic, refreshing and ergonomic while improving the well-being and comfort of our tenants. Since we put a lot of work into the revitalization of the office park, it is a great honor for us to be recognized by BigSEE Awards among 1500 amazing projects across the whole SEE. Such achievement is an important milestone not only for our operations in Serbia, but also a sign that revitalization along with investing in sustainable technologies and futureproof architecture is an efficient way to grow our business. Thanks to the hard work of KDA, Octogon, Modelart architects and our asset management team we can now rightfully call ourselves the landmark campus of New Belgrade" – commented Pedja Petronijevic, GTC's Country Manager in Serbia.
The Green Heart office complex has a unique history in the GTC's sustainable office portfolio. The project started back in 2008, when the developer constructed the two buildings, known as the GTC Square – 10,800 sq m and 11,500 sq m respectively, after which their territory and facilities have underwent substantial revitalization. After moving the old parking lot underground, the company has constructed three contemporary buildings, delivering in total 24, 000 sq m of new A-class office space, embedded in green oasis. The two existing buildings have been modernized to meet the increasing demand among tenants and compose a unique office campus according to the required environmental criteria. In February 2021, Green Heart became fully LEED certified, thus finalizing the revitalization process for the whole complex. Currently, the project is the state-of-art business campus, occupying 46,300 sq m in the bustling business district of New Belgrade. On top of that, each square meter of Green Heart's territory is tailored to satisfy the most exquisite tenants' needs. From an out-of-this-world interior to a rich gastronomic offer, green courtyard or highly accessible wheelchair facility – GTC made sure that everyone who enters this green campus-style oasis leaves it with peace of mind.
"Green Heart is our success story of the revitalization efforts that pay off in the long run, and BigSEE Award proves that. GTC has made its name for excellent property management, as we pay particular attention to the renovation and upkeeping of our assets. This approach stems from the principles of sustainable development and responsible construction that steer our operations across the whole CEE. By breathing in "second life" to our properties, we save resources, reduce carbon footprint and "recycle" already existing assets by making them safer, greener and more community friendly. This helps us not only to enrich our portfolio with brand-new, functional properties, but also achieve UN Sustainable Development Goals, such as affordable and clean energy, responsible consumption and production, sustainable cities and communities, among others" – said Yovav Carmi, President of the Management Board of GTC.