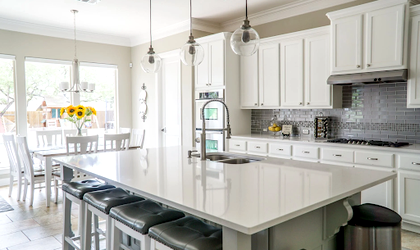 The need to stay up-to-date with the latest home and kitchen trends is an important one for many homeowners. Keeping track of the newest trends may seem like a major task, but there are proven methods that ensure that homeowners will never miss out on staying informed about the newest trends in their field.
 

Visit Home Design and Educational Websites
One of the best ways to stay up-to-date on the newest home and kitchen trends is by visiting home design websites. These websites often have articles and blog posts that feature the latest trends in home décor and design. They may also have galleries of photos that show how these trends are being used in people's homes. Reviews and blog posts from independent product reviewers and content writers at bestandright.com and other educational websites often feature the latest interior decorations, home appliances, furniture, and other trending items for homes and kitchens. Some educational websites have sections dedicated to home and kitchen blogs and relevant content where you can find discussions, opinions, and recommendations about the newest and hottest trends. 
Subscribe to Home & Kitchen Magazines
Another great way to learn about the new home and kitchen trends is by subscribing to magazines that focus on these topics. There are a number of magazines that cover both home and kitchen trends, so you should be able to find one that's a good fit for you. Reading these magazines can give you ideas for updating your own home, as well as help you learn about trends so that you can stay ahead of the curve and impress your friends and family with your home décor.
Check out TV Shows 
If you're looking for new ideas on how to update your home while watching TV, consider tuning in to shows that offer home and kitchen decorating tips like HGTV and Food Network to name a few. Other popular ones include:  "Fixer Upper", "House Hunters", "Property Brothers", "Love It or List It Canada", and "Flea Market Flip". While these shows won't always feature current home and kitchen trends, they will give you new ideas on design elements such as paint colors, furniture styles, or flooring choices that can then be used in your own home.
Attend Home and Kitchen Trade Shows
If you want to see the latest home and kitchen trends in person, you can attend trade shows that focus on these topics. These events often have exhibits from a variety of companies that showcase their latest products and designs. This is a great opportunity to get inspiration for your own home, as well as learn about new products that you may want to consider using.
No matter how you choose to stay up-to-date on the latest home and kitchen trends, it is important to remember that the most important aspect of any design project is to make sure that the end result reflects your personal style and taste. So don't be afraid to experiment, and always trust your gut instincts when it comes to making decisions about your home. After all, it's your space – make it yours!