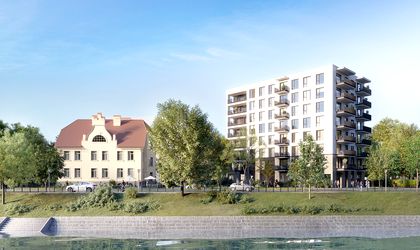 Construction works for the first residential building of PALTIM, SPEEDWELL's mixed-use project in Timisoara, are ready to fully set off after signing the contract with STRABAG. STRABAG has taken the role of General Contractor for SPEEDWELL's project. The apartments in the first residential building of PALTIM are estimated to be delivered to their owners in Q1 2024.
After having recently signed the agreement with STRABAG for General Constructor, SPEEDWELL is ready to kick off construction works for PALTIM's first phase, which includes a residential building with a 2S+P+6+7R height regime and 123 premium units.
PALTIM introduces a high-end concept aiming to reinvent modern urban living, right on the shore of the Bega River. As a mixed-use ensemble, it will combine residential, office and retail components. On the residential side, the total number of apartments will be 236, built in two phases with the ones in the first phase estimated to being delivered to the homeowners in Q1 2024.
Located within walking distance from the city center and the Central Park, PALTIM has a unique location. Thanks to its placement, besides easy and fast access wherever it's needed, the lucky residents will be able to enjoy Bega River's promenade and views at all times.
PALTIM will also be a regeneration project as SPEEDWELL will refurbish two historical buildings that were part of the former hat factory on the site. The reconstruction works for the PALTIM monument villa have already started, and the second historical building will also have a prominent place in the community. Moreover, the courtyard will feature a landscaping design meant to bring people together.
Since community and history are two of the main values the PALTIM concept is based on, SPEEDWELL aims to create new spaces and reconfigure old ones to transform them into places where new communities can form and grow.
PALTIM is also part of SPEEDWELL's strategy towards more sustainable developments, and it is going to be built according to the nZEB standards using superior quality materials.
Sales for this project have been launched in October 2021. Since then, more than half of the available stock of apartments has been sold.
"We are eager to start the collaboration with STRABAG and see the PALTIM concept we have envisioned transform into reality. Having the right partners in the journey towards our goals has always made the difference. We trust this will happen in this case too. We have heard nothing but good things about our newest collaborators and their work showcases it. So, we are excited to have them on board for this project and looking forward to a great partnership and building PALTIM at superior standards."  states Jan Demeyere, Architect and Co-Founder at SPEEDWELL.
—
"STRABAG SRL, active on Romanian's construction market since 1994, with a portfolio of large-scale works in the field of civil, industrial and infrastructure construction, is pleased that SPEEDWEEL has chosen STRABAG as General Contractor for the construction of the PALTIM residential complex. STRABAG's partnership with its Clients is always based on mutual respect and cooperation in order to deliver the projects in time and in quality as required by the Beneficiary. We are proud to be able to expand STRABAG's portfolio with the new PALTIM project and to be part of the team that will provide Timisoara's residents a new concept of high quality housing." mentioned the STRABAG company's representatives.