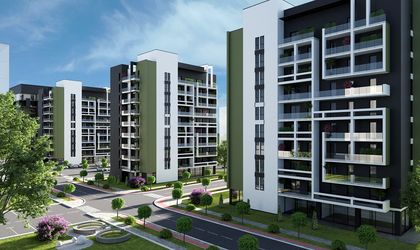 The pandemic has slowed down the residential market due to the restrictions imposed by the government. In April 2020, the number of real estate transactions was almost 34 percent lower than the one recorded in April 2019, and the situation was similar in May. However, apartment prices did not follow the same trend.
By Aurel Constantin
Fewer than half of employees have returned to their offices since the end of the state of emergency, therefore the demand for homes where employees can set up an office is still high, and it will remain at high levels as 60 percent of employees believe that working remotely would be useful for at least 1-2 days a week, while 10 percent would like to work from home for 3-4 days a week in the coming period, according to a survey conducted by Colliers.
The search for a home that is better suited for remote working thus continues. 74 percent of respondents in a study by Storia.ro were planning to make a real estate transaction this year, with most of them being interested in selling or buying (63 percent). The study was conducted in May 2020, through an online questionnaire among Storia.ro visitors. The sample included 2,565 respondents.
Asked whether new information about the pandemic could change their plans, 56 percent of participants answered affirmatively, with the most affected properties being apartments (43 percent), houses (41 percent), followed by land (11 percent) and other types of properties (5 percent). Of those planning to buy or rent a home, 44 percent said their plans would not be affected in any way by any new information about COVID-19. However, 27 percent were thinking of choosing a cheaper property, while 14 percent were considering giving up buying and renting instead. Most Romanians surveyed believed that prices could go down in the next period, while a smaller share thought this was too difficult to estimate at this point.
"The period we are going through has led people to reconsider and reorganise several aspects of their lives, so we wanted to find out if and to what extent Romanians' intentions, expectations, and decisions regarding real estate activity have changed. We found out that they were still interested in buying and renting properties and that most of their decisions had not been influenced by the pandemic, but some were thinking of postponing their decisions for three months to a year. A common point we saw among many of the respondents referred to the choice of working with a real estate agent. Among respondents who wanted to buy or rent, 59 percent were planning to use the services of an agent," said Mihai Sava, Real Estate Business Manager at OLX Group.
Changes in the buying process
Asked how the pandemic had affected their plans to buy, 30 percent of respondents said they were not looking to postpone their purchase. Only 8 percent were thinking of giving up the purchase, while 31 percent of respondents wanted to postpone it for a maximum of 3-6 months. Meanwhile, 8 percent of potential buyers even wanted to speed up the process.
When asked how they were planning to finance the upcoming real estate acquisition, 53 percent of Romanians said they would choose to take out a mortgage loan, while 35 percent said they already had the necessary amount. In the near future, 49 percent of Romanians who want to buy a home are planning to explore offers online, while 37 percent are willing to go to house viewings.
As for the factors that would make the decision easier when buying a property, 50 percent said it would be helpful to see the property through a virtual tour, while 22 percent said they would like a video presentation.
In terms of the rental process, only 43 percent of Romanians said that the pandemic did not influence their decision in any way. At the same time, 22 percent of respondents wanted to speed up the rental process and 31 percent were thinking of postponing it – 20 percent for three months, 6 percent for six months, and 5 percent for up to a year.
In the near future, 40 percent of Romanians who are looking to rent are planning to explore online offers and another 40 percent are willing to go to house viewings, while 12 percent are ready to sign the final documents. The factors that would make their decision easier are similar to those mentioned by potential buyers – 52 percent said it would be useful to view the property through a virtual tour and 19 percent agreed that it would help to see the house through a video presentation.
Selling or renting a property
About 30 percent of those who wanted to sell a property had already published an online ad, 19 percent were renovating the property to increase its value and 14 percent were looking for an agent to take charge of the process.
Owners who want to sell are planning to publish an online ad (54 percent), while another 31 percent will meet with potential buyers for house viewings. When asked what factors would make the sale easier, 35 percent of respondents said they would like to create a virtual tour while 23 percent believed it would be possible to sign a contract without leaving the house, using only digital means.
Ongoing projects
New apartment buildings are still under construction in several cities. Even if the number of new homes will probably be lower compared to 2019, investors are still optimistic about the future. FRI-EL Buildings, part of Italian group FRI-EL Green Power, one of the largest renewable energy producers from Italy, will invest over EUR 80 million in developing Ateneo Timisoara, the biggest residential project under development in the western part of Romania, projected to have 1,300 apartments and a vast list of amenities and facilities.
Ateneo Timisoara is located in the Torontal area, one of the most dynamic areas developing in the city, close to the Agronomy and Veterinary Medicine University and approximately one kilometer away from the future IKEA Timisoara store. The first phase of the project will include 153 apartments in three buildings, after an investment of approximately EUR 10 million, entirely from company equity. Construction works are being undertaken on the 5th floor of the first two buildings, set to be delivered in the spring of 2021, while the third building will be delivered by the end of next year.
"We started the development of Ateneo Timisoara at the end of 2019 and we haven't slowed down over the last three months, and we have full confidence in the local residential market. The development of the entire Ateneo project will last for many years ahead and we are also looking at new investment opportunities," stated Luca Cainelli, the CEO of FRI-EL Buildings Romania. Ateneo Timisoara will have the largest list of amenities and facilities for residents of any residential complex in the west of the country.
Unchanged prices
At the country level, housing prices went down by 1.7 percent in April and 1.4 percent in May. The average price thus fell to EUR 1,348 per square meter at the beginning of June 2020. But this is the same average price per square meter as in the beginning of the year, which means that prices remain unchanged.
The situation will continue until the last quarter of the year, when a pickup in transactions is expected. That will be the moment when prices go either up or down, depending on confidence in the market and the development of the COVID-19 pandemic. If the health crisis continues, affecting the economy, housing prices may drop due to the lack of confidence and the decreasing number of transactions.