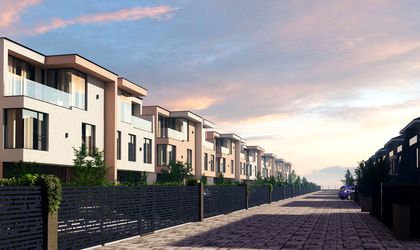 Only 13 percent of all dwellings in Romania are built after 1990, while 87 percent are old houses and apartments
Almost 14,000 apartments were listed for rent in early September in the largest cities and university centres in Romania. Rent values for these apartments slightly has stagnated or even gone up slightly compared to prior months.
By Aurel Constantin | Photo: Pipera Gardens, developed by Ospinas & Co
Over half of these dwellings were available in Bucharest, according to data collected by imobiliare.ro and centralised by Analize Imobiliare. As the biggest city in the country, the capital unsurprisingly also has the largest rental market. Those who are looking for a one-bedroom apartment but have a fairly small budget should search in areas like Ferentari, Resita Square or Alexandriei, where average is below EUR 300 per month.
September is usually the month when the rent market peaks, as it's the period when university students are getting ready for the new semester. However, 2020 is different, as the pandemic is changing the way universities are delivering their courses, with several big institutions going online. This means that demand from incoming students for studios and one-bedroom apartments is lower than it was in previous years.
Cluj-Napoca, a city that needs a lot of new dwellings to cover its rapidly growing economy, has around 2,660 apartments listed. The average rent in Cluj-Napoca is just slightly lower than it was in September 2019, but still the highest in the country. For a one-bedroom apartment, the lowest rents can be found in areas like Floresti, Baciu, Gruia or Dambul Rotund, averaging EUR 400/month.
Over 2,000 apartments were awaiting new tenants at the beginning of September in Timisoara as well. Among the cheapest areas are Freidolf, Traian, Maria Square, and Plavat II. At the opposite end, there are areas such as Braytim or Unirii Square, where you will pay between EUR 400 to 470 per month for a one-bedroom apartment.
Lower rent levels are found in Iasi, where prices have remained similar to those recorded in 2019. Areas like Frumoasa, Dacia, Alexandru cel Bun, and Canta are offer one-bedroom apartments for less than EUR 300 per month, while in the Civic Centre, Independence or other ultra-central areas, the monthly asking price is around EUR 400.
In need of new dwellings
All the prices above are calculated for old apartment buildings, since those represent the majority of dwellings in these cities. A report by Cushman & Wakefield Echinox shows that only 13 percent of the 9.1 million housing units in Romania were built in the last 30 years.
There are only three counties where the share of homes built within the last 30 years exceeds the 20 percent threshold: Constanta (22.1 percent), Cluj (22 percent), and Suceava (21.4 percent). At the opposite end are Teleorman (5.6 percent), Hunedoara (5.6 percent), and Caras-Severin (4.1 percent), where the residential stock is dominated by an overwhelming share of dwellings over 30 years old.
In the Bucharest-Ilfov region, the share of homes built between 1990 and 2019 reaches 16.8 percent, with a significant difference between the capital city (10.3 percent) and Ilfov county (46.1 percent), a fact that illustrates the city's high appetite for expansion to neighbouring towns, such as Popesti Leordeni, Chiajna, Bragadiru or Voluntari. In gross numbers, in both Bucharest and Ilfov, 90,000 residential units have been built over the last 30 years. After Bucharest and Ilfov, the largest residential markets of the last 30 years have been Cluj (77,074 new homes), Constanta (66,645 units), Iasi (59,948), Suceava (58,557), and Timis (48,714).
"Despite the constant development of the last 4-5 years, the residential market in Romania remains underdeveloped, with the stock still dominated by old apartments, which mostly have small surfaces, lack parking spa-ces and a low quality of construction in terms of facilities and common areas. In cities with better economic development, such as Bucharest, Cluj, Iasi, Constanta, Timis or Sibiu, the new residential share is above the national average, but even in these counties there is still enough room for development in order to improve living conditions. In addition, other counties such as Bihor, Dolj or Prahova have positive demographic and macroeconomic indicators and a new residential deficit, so they have good potential for residential development," says Mihaela Pana, Residential Agency Partner at Cushman & Wakefield Echinox.
But new residential buildings are facing the same problems as they did five or ten years ago: a lack of demand due to low purchasing power and a lack of affordable land. This means that new residential buildings tend to either be built on the outskirts of cities with small apartments that can be sold for low prices or luxury dwellings in very expensive areas. This is not a good situation for the residential market, but it could be fixed by expanding the city limits, with proper infrastructure and public transportation.
Brasov begins expansion
Brasov's residential market saw good results in 2020, with prices and total transactions increasing slightly compared to 2019, when the best results in the market's modern history were recorded, according to a report released by real estate consultancy SVN Romania.
The results recorded by the residential sector in Brasov, one of the main regional residential markets in Romania, is all the more positive as the market was significantly affected by the two months of travel restrictions during the State of Emergency.
However, the total number of transactions closed on the residential segment at county level in the first eight months of 2020 increased slightly compared with the similar period of 2019, by 0.8 percent, according to official figures. At the same time, transaction prices for dwellings located inside Brasov, regardless of segment – new or old – or delivery date, has increased slightly in the last 12 months, by 2.1 percent.
The average transaction price in Brasov reached EUR 1,195 per square meter. The lowest prices on the new buildings segment, EUR 850/sqm, are found in the city's suburbs, while prices in the Astra and Tractorul areas inside the city can reach EUR 1,100 – 1,150 per sqm. The most expensive areas are centre, with EUR 1,400/sqm, and Poienii Avenue, with EUR 1,630/sqm.
"General absorption rates remained high throughout 2020, with approximately 85 percent of units sold prior to their delivery dates. Brasov's residential market is still attractive to investors, even amid a drop in tourism-related occupancy to less than half of 2019 levels. Even so, the potential yield that can be obtained by renting units on the free market can reach 6 percent per year. Brasov has over 25,000 students and perhaps the biggest growth potential in the medium to long term, taking into account all major public investments due to be completed in the future, form the new Brasov International Airport to the Ploiesti-Brasov highway," says Razvan Calita, managing partner at SVN Romania | Brasov.
The residential sector is one of the most important pillars of Brasov's regional economy, with yearly deliveries stabilising at a level of approximately 3,000-3,500 units. Approximately 3,250 new homes could be delivered this year in Brasov and its surroundings, slightly decreasing compared to 2019, due to a lower number of permits issued in recent years, following several legislative changes.
Over 80 percent of the new residential units are located in the city, while neighbouring areas attract the delivery of 600 to 800 new homes every year – the most developed are Ghimbav, Tarlungeni, and Sanpetru.
The biggest share of the new offer in Brasov is represented by units targeting the mass market segment, with projects located in the suburbs or on the outskirts of the city and prices that can go up to EUR 1,100 per square meter. At the same time, approximately 32 percent of the new stock targets the middle market segment, characterized by better locations, bigger surfaces, and average transaction prices of EUR 1,200 per square meter.