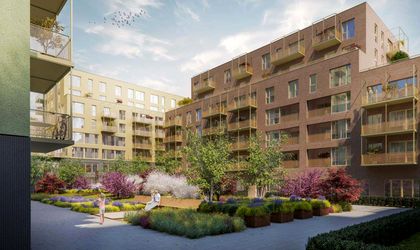 Regional real estate developer and investor Prime Kapital announces its second residential project, Marmura Residence, comprising of five buildings that will host 458 high-quality and well-designed urban apartments: double studios and 2, 3, 4-room apartments.
Located in the Bucurestii Noi area, right next to the Jiului Metro station, the project provides easy access to the city center and great proximity to the northern office areas. Marmura Residence spans over 1.5 hectares of land and features 5,600 sqm in green areas, over 1,700 sqm of retail and services and 1,000 sqm of co-working spaces.
The project targets individuals seeking a modern, high-quality, yet affordable home that is integrated into a vibrant community.
Construction will begin by spring in 2019, and the first units will be delivered in 2020.
In accordance with Prime Kapital's commitment to improve living standards on the local market, Marmura Residence will be a community-based concept and will feature plenty of green spaces and terraces, 24/7 security and car-free areas ensuring the safety of residents within a well-designed urban setting.
The project will include integrated commercial areas, focused on providing complimentary services to the residents. Prices for apartments will start at EUR 58.000. Financing by Prime Kapital is available to future residents through its unique FlexAssist programme.
"The Bucurestii Noi area and its surroundings are shaping into an eclectic mix of old and new and it is rapidly growing into one of the most attractive areas in Bucharest, due to its well-established infrastructure, fueled by the energy of new office and residential projects. Marmura Residence has everything one needs to enjoy life to the fullest: entertainment, lifestyle, co-working areas and spectacular green spaces and terraces. It also aims to become an important hub in the neighborhood offering not only high-quality living units, but also exclusive indoor community spaces that will support meetings, events and exhibitions. We therefore expect Marmura Residence to attract an eclectic mix of trendy residents," stated Maggie Kitshoff, Prime Kapital's Residential Projects director.
Prime Kapital announced its first residential project earlier this year, Avalon Estate, located in the North of Bucharest offering 733 villas, townhouses and apartments within a unique integrated gated community concept. The first 39 units in this project were placed on sale in an early-bird offering at the beginning of November, with more than 60 percent of the units already being reserved.