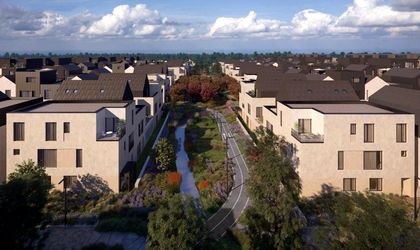 Regional real estate developer and investor Prime Kapital announces its first residential project, Avalon Estate, offering approximately 800 residential units within a gated-community concept.
Located in the Northern area of Bucharest and in proximity to Pipera and Barbu Vacarescu office areas, Avalon Estate spans over 8.1 hectares and features more than 2 hectares of centralized green spaces for the exclusive use of residents.
The large-scale residential complex, estimated to be completed in 2024, will include a Club house and lake access, 1.3 ha of park with play areas for children, 24-7 security and car-free alleys ensuring safety of the community within a well-designed urban concept.
The last phase of the project will include integrated and intimate commercial areas, focused on proving complimentary services to the residents, as well as a private kindergarten. 
"The project offers many valuable benefits – privacy, security, low density and low traffic volumes (car free concept). It also features an opportunity to establish new roots in private village-type setting that offers a mix of housing types that minimize repetitive form from a design point of view," stated Maggie Kitshoff, Prime Kapital's Residential Projects director.
Avalon Estate targets primarily young families, couples and professionals that work in the Northern area of Bucharest.
The homes range in phase 1 type between 70 and 262 sqm of interior living spaces.
Razvan Zamfir