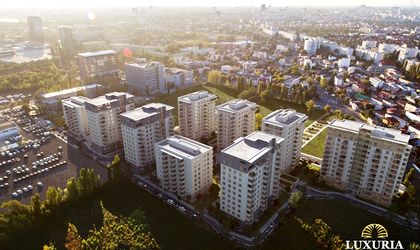 Impact Developer & Contractor reports that its income from residential property sales decreased in the first nine months of this year by 34.21 percent to RON 61.70 million, from RON 93.79 million in the same period of last year.
The company saw its sales policy for the Greenfield neighborhood take a hit, given that access to the complex is made difficult at peak times by the fact that Aleea Teisani is the only artery that can be used after Vadul Moldovei street – functional between 1979 and 2017 – was closed off as a result of legal proceedings by an ecological association.
134 apartments were sold by Impact within the Greenfield Baneasa project. However, the company notes that in the above mentioned period it signed pre-contracts for the delivery of 198 dwellings, and the aggregate value of these documents is RON 90.70 million.
The company has under construction a new residential complex for which the works began this year in the Romexpo area – Luxuria Domenii Residence. The profit from the sale of dwellings increased by 8.66 percent, to RON 31.24 million, from RON 28.75 million. 
The company also announced that there are signals of change in the tendency to contract the acquisitions of 2-room apartments to the interest in buying the 3- and 4-room apartments.
Financial loss was reduced by 54.71 percent, to RON 2.40 million, from RON 5.30 million in the first 3 quarters of last year. This is the context in which the net profit collapsed by more than 8 times, to RON 1.59 million, from RON 13.48 million. Consolidated net profit was about RON 561,000.
Impact's consolidated assets on September 30 were RON 632.06 million, 0.92 percent above the RON 626.29 million at the end of last year. In the same reporting period, total debts went up by 2.64 percent to RON 203.96 million, from RON 198.71 million.
Impact is controlled by businessman Gheorghe Iaciu in a proportion of 49.48 percent, is listed on the Bucharest Stock Exchange and has a market capitalization RON 263.97 million.