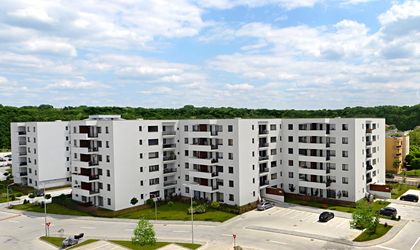 Impact Developer & Contractor (IMP) takes another step in the national expansion strategy and decides to increase the share capital. The decision was taken unanimously by 93.08% of the company's shareholders with voting rights within AGEA and consists in delegating and authorizing the Board of Directors to increase the share capital within one year, through one or more issuances of ordinary shares, with a nominal value of up to 193,750,000 lei.
The Extraordinary Shareholders' General Assembly of Impact was attended by the shareholders representing 93.08% of the total number of votes (Impact shares not included in the quorum). They gave the Board of Directors the power to decide to restrict or lift the right of preference of the existing shareholders at the date of the share capital increase.
The decision was made in the context in which Impact started the expansion strategy at national level by developing large-scale residential compounds, at nZEB and BREEAM Excellent sustainability standards, in the major cities of the country.
"We are pleased with the decision taken today by the overwhelming majority of our shareholders who have empowered the Board of Directors to take steps to increase share capital and that correlates with our vision of accelerated expansion at national level. Along with these resources, we will continue to use both the benefits of access to the capital market, where we have the potential to issue new bonds, and bank loans, so that we can immediately execute our ambitious medium- and long-term development plan. In order to support this approach, we also strengthen the team with motivated and talented professionals who will support the company in its approach of developing sustainable communities in the main urban agglomerations. As such, we are grateful to our shareholders for the trust offered, which motivates us and obliges us to achieve performing results so that we continuously increase the value of the company and implicitly make their investments profitable, and in parallel to meet the most demanding requirements of our customers.", declared Constantin Sebesanu, CEO Impact Developer & Contractor.
The company uses the best practices of corporate governance, transparency, accountability and communication with investors, recently obtaining the 10th rating at the VEKTOR evaluation conducted by the Association for Investor Relations on the Romanian Stock Exchange. Impact Developer & Contractor was appreciated for its active and transparent communication in the relationship with investors, providing them with clear, detailed information, as well as realistic and reasoned estimates regarding the company's activity, financial results and the evolution of its shares on the capital market. Soon, Impact will provide investors with additional data on the company's financial evolution and medium and long-term development plans.