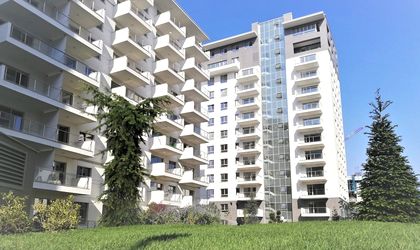 IMPACT Developer & Contractor has fully completed the LUXURIA Residence compound, the first BREEAM Excellent  residential certified project in Bucharest, with a total current value estimated at 150 million Euros.
The entire condominium, contracted in proportion of over 50%, totals nine buildings with 630 apartments, 728 underground parking spaces, 9,650 square meters of green spaces, fitness center, two lounges, reception and playgrounds for children.
IMPACT made the reception of the last phase of LUXURIA Residence, which therefore becomes the first entirely completed residential compound in Expoziției area, an area that, due to its extremely attractive positioning in the Capital, is currently going through an urban revival process, with a multitude of projects in course of development or announced for the coming years.
"LUXURIA Residence is a green compound in the city, close to the city center, a park between parks. A neighbourhood with a mix of unique features that are hard to find in the city, even taken individually, LUXURIA was designed to provide a high life quality standard in the newest development pole of the city, a goal that we have fulfilled despite the challenges posed by the pandemic context. We are very happy to shape a new and growing community  inExpozitiei area. The last two buildings of the ensemble, for which we made the reception with the authorities at the end of the last year, perfectly complete the harmonious setting we designed for the residents, adding playgrounds for children, both outside and inside", said Constantin Sebeşanu, CEO Impact Developer & Contractor SA.
In the development of LUXURIA Residence IMPACT gave a special importance to the sustainability of the buildings and the wellbeing of the residents, LUXURIA being the first residential compound in Bucharest that meets the BREEAM Excellent certification criteria. BREEAM Excellent is the most complex certification process at international level, which recognizes the value of the project throughout the built life cycle, analysing the sustainability of project solutions.