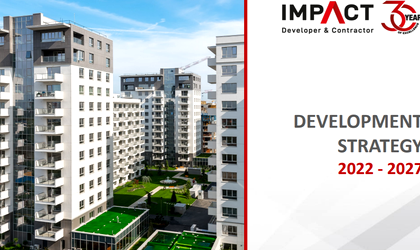 Impact Developer & Contractor (IMP) has published its medium-term development plan on the impactsa.ro website as part of good practices of corporate governance, transparency, accountability and investor communications. The company aims to develop 1.25 million square meters by 2027, respectively over 10,000 homes in the medium – affordable segment, with an estimated market value of 1.4 billion Euros without VAT.
The company's development plan for the next 6 years includes the completion of the projects under execution and the start of 8 new projects, mainly on the land currently existing in the portfolio. In line with previous developments, the new residential projects will be developed on large areas of land, in outstanding locations, with green neighborhoods, built to nZEB and BREEAM Excellent standards using sustainable principles and technologies, respectively using alternative energy sources, smart city solutions, electric mobility solutions. The projects will provide essential services integrated within community centers, including digitized property management services.
The 6-year development plan is focused on affordable housing, which integrate elements that favor both a healthy lifestyle in green areas and an active social and cultural life for community members.
To support the medium-term development plan, the company plans to use several financing instruments, such as issuing new shares, issuing listed green corporate bonds, and bank loans. In this direction, recently, the company's shareholders have delegated and authorized the Board of Directors to increase the share capital within a year, through one or more issuances of ordinary shares, with a nominal value of up to 193,750,000 lei, which at the market value as of August 31, 2021, could bring an additional capital of over 100 million Euros.
"We are confident that we will achieve our medium-term goals, with a solid portfolio of land, know-how, financing potential and team of professionals. We are motivated by the successes achieved so far and by the trust the investors have given us, who have helped us to recently overcome the milestone of 1 billion lei in market capitalization. We are ready to take the company to an accelerated development stage.", declared Constantin Sebeșanu, CEO Impact Developer & Contractor.
Impact has already started the expansion at national level, and by the end of the year it will activate the development of over 2,707 housing units in Bucharest, Constanta and Iasi.