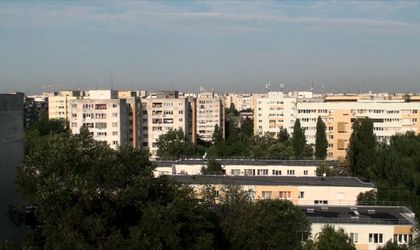 In the first month of 2018, the average asking prices for apartments available for sale, both new and old, continued to moderately grow, both nationally as well as in most large cities which are constantly monitored by imobiliare.ro.
The imobiliare.ro index registered a 0.69 percent advance at the country level, from EUR 1,164/sqm (at the end of December 2017) to EUR 1,172/sqm. It is important to note that the growth tendency of January 2018 was exclusively determined by the newly build housing segment, as prices for old apartments in large regional centres either stagnated or decreased.
Until now, old apartments had been the ones to "lead the way" in price increases.
In Bucharest, the prices claimed by sellers for apartments had an overall growth of 0.64 percent in January, from EUR 1,259 to EUR 1,267 per usable square meter. While the average asking prices for old apartments remained constant at EUR 1,187/sqm, apartments in new buildings grew by 1.45 percent, from EUR 1,306 to EUR 1,325.
In Brasov, old apartments were 0.2 percent cheaper, while the asking prices for new ones were 1.51 percent higher, both categories now estimated at EUR 1,009/sqm.
In Cluj, which was the city with the highest price increases in 2017, the price evolution at the beginning of the year was more restrained. Overall, apartment asking prices grew by 0.41 percent, to EUR 1.463/sqm. Here, too, prices for old apartments dropped, by 0.46 percent (to EUR 1,500/sqm). While still significantly cheaper, new apartments became 1.43 percent more expensive, reaching EUR 1,419/sqm.
Seaside city Constanta is the only one in the analysis where the overall average asking price was lower in January 2018, by 0.37 percent. This can be explained through the fact that old apartments in Constanta had the largest drop in price (0.92 percent, to EUR 1,080/sqm). However, prices for new apartments increased here as well, by 1.26 percent, reaching an average of EUR 1,125/sqm.
Iasi had an interesting evolution at the beginning of this year, being the city with the largest overall growth (1.95 percent), reaching EUR 993/sqm on average. While old apartment prices remained constant at EUR 940/sqm, newly built units had a 3.22 percent growth, reaching EUR 1,026/sqm – thus exceeding
In Timisoara, overall prices grew by 0.61 percent in January 2018, to EUR 1,159 per usable square meter. Old apartments were 0.35 percent cheaper, while new ones had an important evolution, similarly to Iasi, growing by 3.06 percent to reach EUR 1,179/sqm.