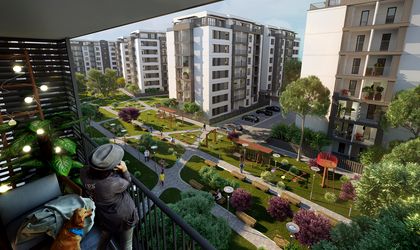 Real estate developer HAGAG Development Europe recently completed the implementation of Realpad Software, thus digitising sales operations for all residential units available in its ongoing projects H Pipera Lake, H Eliade 9 Residence and H Victoriei 139. Bidding and sales operations are now running digital, and by the end of the year two more extensions of the soft will be added. The later will allow the reception and hand-over processes to be coordinated and recorded fully online.
With five ongoing projects, of which two office buildings and three resi-schemes totalling together more than 1,400 apartments, Hagag Development Europe is one of the most active players on the local real estate market. In recent years, the company has invested about 50 million euros in development activities and traded more than 400 residential units. Due to its accelerated development pace and the constantly growing demand in the residential segment, the developer decided to implement smart solutions such as RealPad, thus ensuring efficient and transparent sales operations, all while encouraging the digitalization of the real estate sector.
"We look forward to digitalisation and its benefits and we are trying to stay as innovative as possible and up to date. In this context, we are constantly looking to identify new tools and solutions focused on customer needs and satisfaction, that will support us in streamlining operations within the marketing and sales departments. We value very much our clients' personal time and we are concentrating our efforts into offering the best customer experience, and a transparent and efficient workflow. This is why we decided to digitize the operations within our Sales department. I believe that RealPad will help us achieve our ambitious goals,", says Anna Cohen, Head of Marketing, Hagag Development Europe.
The app works as a CRM that automatically synchronizes leads and sales data with the company's web pages, offering future residents the opportunity to track the evolution of the project in real time. Furthermore, the soft displays a dedicated customer portal where buyers can have permanent access to their client file which includes the type of contract, payments situation and information on construction stages, to which features such as the possibility to select the desired finishes or digitally complete the final reception, in a 100% secure virtual space, without the need to use documents in physical format, are added.
"In Hagag Development Europe we have found a prestigious partner that has a clear vision about digitizing their sales process, which makes our work easy. Our mission now is to help our partner digitize also the customer experience part and make the customer journey of their buyers seamless and enjoyable. With the new projects they have in the pipeline, it will be important to maintain the quality of the customer service as well as remain effective and our job is to help them achieve it with the help of technology", says Jakub Licak, Business Development Manager, Realpad.