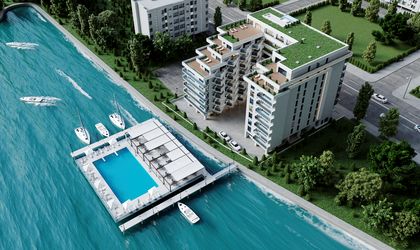 Real estate consultancy and brokerage company Green Alley announces a new project in its portfolio: Marina Blu, a premium development with 87 holiday apartments, positioned right in the center of Mamaia Black Sea resort, on the shore of Suitghiol lake, across the road from Iaki hotel and near Rex hotel.
"We started the construction in the autumn of last year, while the delivery is estimated for June 2022", said Iani Cusu, president of Real Estate Investment, the developer of the project. "Taken into consideration the positioning on the lake shore, we paid special attention to the foundation works, which lasted for a period of over three months, the perimeter walls of 60 cm thickness being executed at a depth of 12 m up to the clay layer, to create a watertight structure, below the groundwater level between the lake and the sea."
Marina Blu holiday resort has a mix composed of studios and apartments with two, three and four rooms. Prices start from 79,500 EUR + VAT for a studio, 112,000 EUR + VAT for two rooms and 139,500 EUR + VAT for three rooms. All apartments are spacious and benefit from generous glazed areas, with views towards Suitghiol lake and Black Sea.
"We are targeting investors interested to place their savings in a one-of-a-kind project, located centrally in Mamaia resort, as well as families searching for a seaside holiday apartment", said Alina Verdeata, Managing Partner, Green Alley, the exclusive agent of Marina Blu.
Marina Blu stands out from other developments trough the elegance of the architecture and increased comfort due to finishes such as ventilated facades, Schüco trypan joinery, Daikin air conditioning, Grohe and Geberit sanitary ware. The partition walls between the apartments are soundproofed, inside the apartments there are no beams, the access halls have natural light, and the project will benefit from two panoramic elevators for eight people.