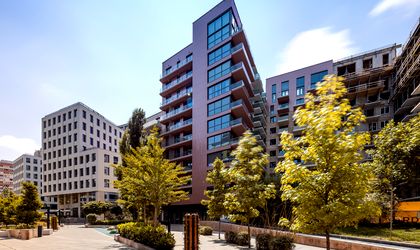 The last residential building along the Corvin Promenade has been completed, and the Futureal Group and its member Cordia continue to play an active role in the further development of the Corvin quarter, with several office and residential projects. The Group will soon launch another 10-hectares urban renewal development project in Budapest, on the banks of the Danube.
The Corvin Promenade is the centerpiece of the largest urban renewal program in Central Europe, launched more than 17 years ago. The Futureal Group's project has reached its final stage as the last residential building on the Promenade, the second phase of Grand Corvin, is now complete and residents are moving into their homes. The promenade, the widest and one of the longest pedestrian streets in Budapest, which has won several international awards in recent years, will be complete with this two-phase building comprising 558 apartments.
"The Corvin Promenade is an exemplary development project that has served the interests of the Hungarian capital, the district, the residents of the area and of course the people who buy a home in our buildings", said Áron Görög, Cordia's Sales Director. "The average price per square meter of the homes here has increased more than the Budapest average, and these apartments can be rented out for a higher fee compared to the surrounding area. When the development started in 2005, the average price per square meter was HUF 312,000, and today this price has increased 5 times. The monthly rental fee for studio apartments on the Promenade has in many cases already exceeded the HUF 200,000 mark, compared to an average of HUF 150,000 – 160,000 for relatively new studio apartments in the area. For one-bedroom apartments, the average rental fee on the Promenade is about HUF 250,000 to HUF 300,000, while in the neighborhood it stands around HUF 210,000-230,000."
The development of Corvin Promenade included the renovation of 22 hectares of land where 2,700 new apartments, 100,000 square meters of office space and 50,000 square meters of commercial property have been built for a total of almost 1 billion euros.
Moreover, the renewal of the Corvin district surrounding the Promenade continues as Futureal Group is carrying out several residential and office projects in the surrounding streets, such as the condominium building next to the future Psota Irén Memorial Park in Tömő Street and the Futó Street office development, which will be put on the market in the upcoming weeks.
The Group will soon launch Marina City, another large-scale urban district redevelopment project which is similar in scale to the Corvin Quarter and will be developed on a 10-hectares brownfield site on the banks of the Danube in Budapest.