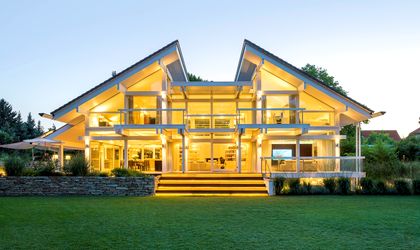 German manufacturer of high-end prefabricated timber and glass houses Huf Haus will open this September two show houses in northern Bucharest, following an investment of approximately EUR 1 million, the company has announced. This is the first step in a plan to sell between six and 10 such houses per year on the local market, say company representatives.
The two showhouses are presently being built in northern Bucharest and are the result of a partnership with a local investor who provided the land. In fact, the decision to come to Romania was the result of this partnership, said Huf Haus representatives. They refused to disclose the identity of the Romanian partner, saying only that he lives in the UK and he has been looking to start a business in Romania for several years.
While the houses come at a hefty starting price of approximately EUR 700,000, the German company is confident that it will find a niche segment on the Romanian residential market. It plans to sell between six and 10 houses on the local market each year.
The German company manufactures and builds approximately 1oo houses each year, some 60 percent of which are sold in Germany. The UK is its second market with some 20 – 25 units sold each year and Switzerland comes close by. Buyers include both individuals and developers who later rent the houses for prices of between GBP 8,000 and GBP 10,000 in the UK, says the company.
Huf Haus is known for both its modern timber-frame architecture and the technology behind its buildings. The houses are manufactured in the company's factory in Hartenfels, Germany, and are afterwards transported and build up on site. The building process takes between four and five months. The Huf Haus group of companies also provides financial consultancy, fit-out, furnishings and landscaping services thus being able to provide turnkey projects.
Huf Haus was set up in 1912 and to this day it remains a family-owned company. Throughout this period the company has built some 10,000 houses. Last year it reported a turnover of approximately EUR 80 million.
Read more in the next BR print edition
Simona Bazavan