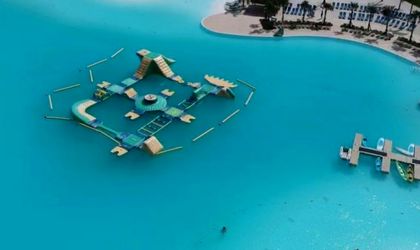 Forty Management, owned by entrepreneur Lucian Azoiței, will use the Crystal Lagoon license in a large mixed real estate project in Bucharest, called Central District Lagoon City, which, according to plans, will have a turquoise lagoon with idyllic beach of over 20,000 sqm in the middle of the project, exclusively for its inhabitants.
The incorporation of a crystalline lagoon powered by Crystal Lagoons technology in a real estate project creates a new standard in the real estate field, transforming the classic urban landscape into a heavenly destination.
Crystal Lagoons technology, patented in 190 countries, is unique in the world and allows the development of large surfaces covered with crystal clear water with a low maintenance cost.
So far, more than 600 lagoons have been developed worldwide, and the Central District Lagoon City will use for the first time in Eastern Europe or such technology, which allows residents to practice swimming and water sports, such as sailing or kayaking, among others; or simply relax on the beach and enjoy the idyllic view of the water without having to travel beyond your own backyard.
Forty Management develops joint projects under the Central District brand and commercial and office projects under the Trade District brand.
The company has several completed residential developments (which include 89 apartments), another 243 apartments under construction (Central District 4 Elements and 134 Central District of the Future) and 650 apartments under immediate development (Central District Lagoon City and Central District Royal Suites.
Forty Management is the winner of the 2017 Residential Development Award for Central District Cuza99, 2019 Mix-Use Development Award for Central District 4 Elements at International Property Award – London, 2020 Residential Development Romania Award at International Property Award London for Central District Viitorului 134, finalist at MIPIM Awards 2017 in Cannes with Central District Cuza99 and holds Green Homes certificate for Central District Cuza99, Central District 4 Elements and Central District Future 134.