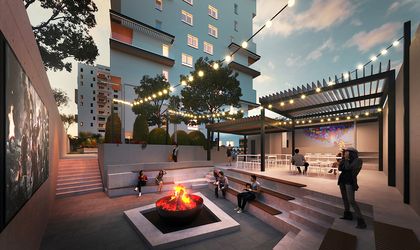 At the end of February this year, the Romanian developer Forty Management received the "Most Sustainable Green Project" award for the Central District 4 Elements project. In its second edition, and offered by the prestigious magazine The Times, the award aims to recognize and reward the main players in the real estate market in Romania. Due to pandemic restrictions, the award was presented only in early August.
"This award is a recognition of the efforts we make every day for the construction of environmentally friendly complexes, "green" buildings, sustainable, with attention to the quality of housing. The award given by The Times is all the more important for us, as it is given to a mixed, large-scale development, which is positioned at an average selling price in the real estate market. This award shows us that it is possible that not only premium developments are sustainable and "green", and it is further proof of the success of our concept, Affordable Luxury. Anyway, it's a premiere for an "affordable" project. We are honored and motivated to continue in this direction in the future," said Lucian Azoitei, CEO of Forty Management.
This award complements other awards won by the Central District 4 Elements project: "Best Mixed Development in Romania in 2019" given at the International Propery Award, London, "Best Real Estate Development" given by BUILD Awards, UK, finalist of Architecture Annual etc.
As are all the developments raised so far by Forty Management, the future projects will be energy efficient, Green certified and sustainable, with minimal impact on the environment.
Central District 4 Elements was completely sold seven months before the completion of the construction works, and is now in the final stages before the apartments are delivered to customers. The project includes 203 apartments and 1,600 sq m of commercial spaces, being located in Titan on Fizicienilor Street, a few minutes from Nicolae Grigorescu metro station.
Forty Management develops joint projects under the Central District brand and commercial and office projects under the Trade District brand.
The company has several completed residential developments (which include 89 apartments), another 243 apartments under construction (Central District 4 Elements and Central District Future 134) and 650 apartments in the immediate development plan (Central District Lagoon City and Central District Royal Suites ), but also exclusive developments such as Central District Poland 25 – with the most expensive penthouse sold in crisis in Romania and Central District Cuza 99 – the first winner of international awards for real estate development in Romania.
Forty Management is the winner of the 2017 Residential Development Award for Central District Cuza99, 2019 Mix-Use Development Award for Central District 4 Elements at International Property Award – London, 2020 Residential Development Romania Award at International Property Award London for Central District Viitorului 134, finalist at MIPIM Awards 2017 in Cannes with Central District Cuza99 and holds Green Homes certificate for Central District Cuza99, Central District 4 Elements and Central District Future 134.