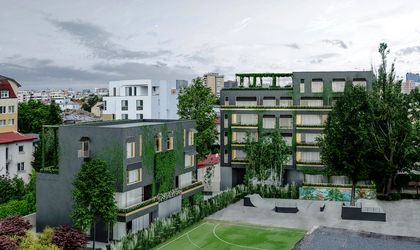 Forty Management, led by Lucian Azoitei, fully reimbursed a financing of EUR 9.8 million from Banca Transilvania for an investment credit related to the costs of developing the mixed "green" project Central District 4 Elements.
The financing was granted for a period of 2 years, was used in full and reimbursed until maturity.
The capital was used for the development costs of Central District 4 Elements, an urban regeneration project developed by Forty Management in the Titan neighborhood and which also contains a commercial component.
"After financing the Central District Cuza99 developers, we continued the collaboration with Banca Transilvania for this 25 million euro project, which immediately became a standard for the quality of living in Bucharest," says Lucian Azoitei, CEO of Forty Management.
Central District 4 Elements includes two apartment buildings with a total of 200 units and 1,700 sq m of commercial space, is certified "Green Building" and multi-national and international award for sustainable development and Architecture and is the first "affordableluxury" project in Romania that contains a running track on the block and an outdoor cinema for residents.
"The project is completed, fully contracted, and the residents are already moving into the apartment. The commercial component of the project contains a supermarket and a store of organic products, and we are talking with several operators for the opening of a gym ", said Lucian Azoitei.
The developer of Forty Management also has in its portfolio the completed projects Central District Polona25, Central District Cuza99, Central District 4 Elements and over 140,000 sqm in the immediate development plan – Central District Viitorului 134, Central District Lagoon City and Central District Royal Suites.