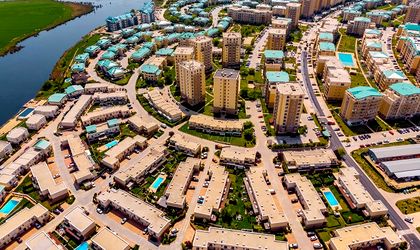 Cosmopolis will reach at the end of 2020 an overall number of over 4,100 units delivered and a community of over 10,000 inhabitants, after investments of over EUR 350 million, one of the biggest investments undertaken in a real estate project from Romania.
Opus Land will invest over EUR 22 million in 2020 in the ongoing development of Cosmopolis. Thus, approximately 500 new apartments and villas are scheduled for delivery this year, along with new facilities that will add to the already biggest facilities list existent in a local residential project.
"We surpass new milestones in the development of Cosmopolis every year. In the last 12 years we developed and built a real city. Cosmopolis is not only a residential project, it's an extremely numerous community, a unique lifestyle, a development model and piece of puzzle from a beautiful Romania. The story of Cosmopolis will continue for at least another 10 years and in the end the project will be the first new city developed in Romania after 1989", stated Gabriel Voicu, sales director SVN Romania and project manager Cosmopolis.
In addition to the new apartments and villas, an entirely new series of facilities will be completed in 2020. Thus, in March the construction of the state primary school will be completed – the first of its kind within a residential project. The building, which may be extended in the future according to the existing needs, will be donated to the authorities.
Also, in 2020 a new access road towards Tunari will be opened. Last but not least, the general road infrastructure within the complex will be further developed and 10 new pools will be opened. At the same time, the strip mall opened in Cosmopolis – first of its kind within a local residential project – reached an occupancy of 100 percent – over 4,000 square meters of commercial spaces, a surface which includes a supermarket, coffees, cake shops, restaurants, pub, fast – foods, bakery, service spaces, traditional shops, veterinary clinic and several beauty salons.
Among the existing facilities in Cosmopolis are two kindergartens, two parks, a private beach at the nearby lake, 27 outdoor pools, several playgrounds, numerous restaurants and coffee shops and the new ultramodern gym opened in 2019.
Sales in Cosmopolis registered an increase of 18 percent in 2019 compared to the previous year, reaching 550 units.
"2019's results are excellent, especially if we take into account the difficult beginning of the year, with the new indebtedness ceiling and the increases of interest rates. 2020 started in a much more positive context and we estimate that we will register another excellent result this year", stated Gabriel Voicu, sales director SVN Romania and project manager Cosmopolis.
Over 30 types of units are available within Cosmopolis, starting from double studios, with 2 rooms and a constructed surface of 52 square meters and a price of EUR 48,110 + 5 percent VAT, and villas from EUR 95,000 + 19 percent VAT.
SVN Romania is the real estate consultant end exclusive agent of Cosmopolis. The company is one of the biggest real estate consultants active in Romania. SVN International Corp. has over 220 offices in eight countries and regions in which over 1,600 brokers and consultants are active.