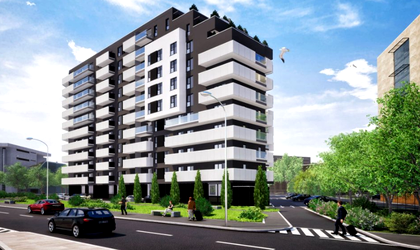 While the volume of construction works decreased in residential buildings by 27.7 percent in the first 11 months of the last year, some strong developers with financial backing have announced new projects with thousands of apartments worth around EUR 400 million in the Razoare area, which is near the future Military Academy subway station.
One United Properties last year acquired the former industrial area Ventilatorul from Immofinanz, and thousands of flats can be built on the land. The PUZ, obtained in 2014, stipulated a mixed project with apartment blocks and office space, with 9, 11 and 15 floors respectively.
The neighbors from Titan Mar, owned by the family of the former Bucharest mayor Adriean Videanu, obtained the permits for the 5 hectare plot, where 13 buildings with 12 floors and 20 floors can be built.
Camelia Sucu, the former wife of businessman Dan Sucu, wants to enter the real estate market with a development in the continuation of the land owned by Titan Mar, Class Real Estate Development started last year to get the PUZ for a land of 10,000 sqm, which is suitable for the construction of three ten-story buildings. In the fall of 2017, two Dubai investors, each holding 25 percent of Class Real Estate Development, were co-opted in the company that owns the land.
Through these projects and others already in construction, like Cortina Academy, the area could attract additional investment of about 400 million euros.
The City Hall
The Bucharest City Hall, through its Sustainable Development Company, recently submitted documentation to obtain the environmental permit for a project with blocks of flats and a kindergarten on Soseaua Panduri, no. 77, even though in November last year, the Bucharest Court of Appeal decided to cancel all decisions setting up Municipal Companies.
The 10,000-square-meter plot of the Panduri Road belongs to the City Hall and the PUZ provides for the construction of three eight-storey blocks and a kindergarten. The land is right next to the Military Academy subway station. The City Hall says that the apartments will be for social cases.
According to Alexandru Mitrache, head of land development Cushman & Wakefield Echinox, if we're talking about plots located at a distance of 1.5-2 km from Razoare, with the potential to become short and medium term projects, there are about 200,000 square meters of land that could be developed in 5-7 years. This could mean around 3,000 homes, 150,000 square meters of offices, and proximity shopping areas.