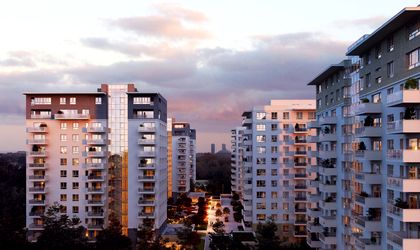 Bergamot Developments Phase II, a company owned by Impact Developer & Contractor, signed a contract with BDT Construct & Ambient SRL for the execution of the construction and finishing touches of the 130 apartments in Luxuria Domenii Residence project. The value of the contract is EUR 11.6 million plus VAT.
The final phase of the Luxuria project has 2 apartment buildings with 130 units, from studios to duplexes and surfaces from 54 sqn to 327 sqm. Designed to provide a high standard of living, apartments have generous heights of 2.8 – 3 m and big terraces and premium finishes.
"Being the first residential project, in the immediate vicinity of a business center in the Domains – Exhibition area, Luxuria is very attractive for investors. Based on a mix of benefits brought about the project and the pace of the pre-contracting care we have enjoyed so far, estimating until the completion of the new blocks, we will have most of the apartments in the project already contracted," said Razvan Ionescu, Marketing Director within the Impact Developers and Contractors Group.
The Luxuria Domenii Residence complex is built in 3 phases, on a land with a surface of 22,500 square meters, located in the Exhibition Boulevard and Aviator Popisteanu street. It will eventually include 9 blocks with a total of 630 apartments, 9,650 sqm of vegetation, including its own park, Luxuria park of 2,500 sqm and will accommodate 10 theme gardens.
The project has already received an award, International Property Awards, for the unique elements of architecture, design and landscape. In addition, Luxuria Domenii Residence is first Bucharest Project with BREEAM Excellent certification, loaded in the energy class and in the category of "green buildings".