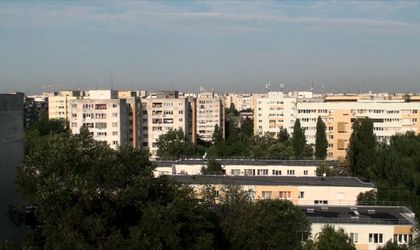 Asking prices for apartments being put up for sale in Romania's main cities saw a slight increase in March, in the context of a stabilization period with both up and down variations, according to the latest report released by Imobiliare.ro.
The average asking price per square meter of new or old apartments reached EUR 1,237 in March – 0.3 percent higher than at the end of February. In three of the six monitored major cities, sellers' demands increased compared to the previous month, while they decreased in the other three, especially for old apartments.
Bucharest
On average, Bucharest apartment prices increased by 0.4 percent to reach EUR 1,327/sqm, but not across the board. Apartment prices in older buildings decreased by 0.3 percent to an average of EUR 1,215/sqm, while prices for new apartment climbed by 0.6 percent, to reach EUR 1,409/sqm.
Brasov
The analysis shows a slight increase in prices of 0.2 percent on average, to EUR 1,115/sqm, but older apartments had a 0.9 percent price decrease to EUR 1,088/sqm, while those in new buildings had significantly higher prices, up by 2.8 percent, reaching an average of EUR 1,183/sqm.
Cluj-Napoca
Overall apartment prices dropped slightly by 0.3 percent to EUR 1,566/sqm, and the declining trend appeared for both the old and new segments (-0.3 percent and -0.4 percent, respectively).
Constanta
The average asking price for an apartment in Constanta increased by 0.8 percent, to EUR 1,135/sqm. This was the only city where old apartment prices increased, by 0.7 percent, to ER 1,131/sqm. New apartments also recorded a price increase of 1.3 percnet, to reach EUR 1,144/sqm.
Iasi
The north-eastern city had quite a significant decline in apartment asking prices in March, losing 1.3 percent to get to an average of EUR 1,007/sqm.
Similarly to Cluj-Napoca, both market segments saw a decline: prices for old apartments were down 1.1 percent with EUR 999/sqm on average, while new apartments declined by 1.4 percent to EUR 1,011/sqm.
Timisoara
Regardless of their construction period, apartments put up for sale in Timisoara had moderate variations in March, with an overall average price of EUR 1,228/sqm. Only older apartments had a slight decline of 0.2 percent to EUR 1,238/sqm, while newly-built units were priced 0.8 percent higher at an average of EUR 1,198/sqm.