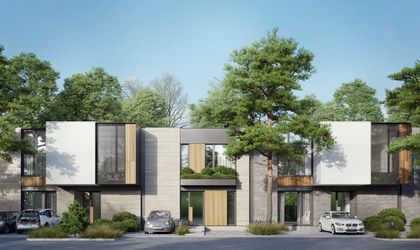 Alesonor, the developer of the first complete suburb, Amber Forest, announces a financing from Banca Transilvania worth EUR 21 million with the purpose to finance the development of 294 green homes in the first stage of the Amber Forest project, which have a construction cost of approx. EUR 57.5 million.
Obtaining the development capital is a reconfirmation of the value and trust that financial institutions have in the Amber Forest project, the first and only complete suburb in Romania. Amber Forest includes approx. 500 green villas and 200 green apartments, developed on 31 hectares, with only 15% of the built area, with the lowest land use coefficient.
The suburb will have complete and high-quality infrastructure, school, kindergarten, afterschool, sport halls and fields, running and bicycle tracks, spa and gym, over 5.3 hectares for parks and green areas, supermarket, market, bakery, restaurant and cafe, polyclinic, pharmacy, co-working space with conference rooms, as well as direct access to Baneasa forest, the largest forest around Bucharest.
"Amber Forest homes are the first homes in Romania that meet the NZEB energy standard, set by the European Union since 2021. Being energy efficient buildings, and at the same time quality, sustainable constructions that integrate state-of-the-art technologies, Amber Forest homes are a safe investment, reconfirmed by obtaining from Banca Transilvania the capital for the development of the first green, energy efficient villas and apartments.", said Alex Skouras, Managing Partner at Alesonor.
"We are happy to be part of this project, designed to develop energy efficient homes according to the latest European standards. The financing of this type of projects is part of Banca Transilvania's sustainable development strategy, and each client, through its specificity, helps us to strengthen step by step the specific ESG competencies that derive from the rigors of the NZEB energy standard. We want to see as many projects of this kind in Romania because at BT we have a firm commitment to support the community and the environment.", said Cosmin Calin, Executive Director of Large Corporate Clients, Banca Transilvania.
The entire process of obtaining the financing was a complex one, evaluated by Banca Transilvania and managed together with a team of consultants: Filip & Company for legal services and Redevo Solutions for financial consulting services.
"We are glad to once again support the Alesonor team in developing a benchmark project, a modern community trainer with a positive impact on the environment. Amber Forest gives us hope for a modern future for Romania based on respect for the environment, sustainable development and care for what we pass on to future generations. We thank our client for the opportunity to contribute to its implementation and in general for the trust given.
We also thank Banca Transilvania, in which we found, as always, a constructive partner with a specific interest in the same sustainable values.", said Alina Stancu Birsan, partner at Filip & Company.
"We are pleased that we were selected by the Alesonor team for a unique project in which we strongly believe and that through the services and expertise of Redevo Solutions we contributed to obtaining this financing, which will ensure the construction of the first phase of this reference project on the Romanian real estate market.", said Stefan Oana, Managing Director at Redevo Solutions.
Amber Forest suburb offers over 20 types of villas starting with 2 bedrooms and also 14 types of apartments starting with 2 rooms, in low buildings responding to multiple needs and preferences.
More than 350 Amber Forest green homes have already been sold, and the construction works stared at the beginning of this year.