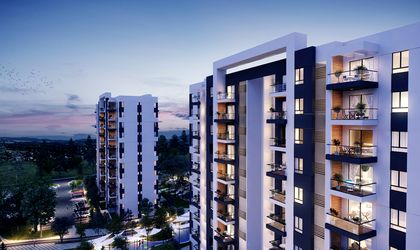 Real estate developer AFI Europe Romania will start later this month the construction of AFI City, the first large-scale residential project launched by the company in Romania. TGC has been designated as general contractor for this first phase of the project.
The first phase of the construction will begin this month and will generate two buildings that will add up to 190 homes, served by 228 over-ground parking spaces. The first phase of AFI City's construction will be completed in the summer of 2019.
Once completed, the residential project will include a private community surrounded by green areas, sports facilities and playgrounds. In addition, AFI City enjoys the proximity of Laminorului metro station, right in front of the project.
"When I worked on the AFI City concept, especially in the context of the lack of quality of design and construction projects in Bucharest, we considered the high demand for sustainable and functional apartments. Sales expectations are high and we believe that they will run at a rapid pace due to the location of the project and the concept of the private community. In addition to positioning – for which demand is currently being raised – we also discuss the benefits of living in a green home, in a well-connected private community to all kinds of public transport (Laminorului subway, multiple transport modes) and private transport," said Tal Roma, business development manager at AFI Europe Romania.
Located in the north-west of Bucharest, along Bucurestii Noi boulevard, in District 1, the project will include several types of apartments built with an emphasis on the functionality of the space, following an investment of EUR 16 million.
The project, pre-certified as Green Homes by the Romania Green Building Council (RoGBC), will include sustainable building components and a number of benefits, aiming to become one of the most profitable projects in the Bucharest residential market.