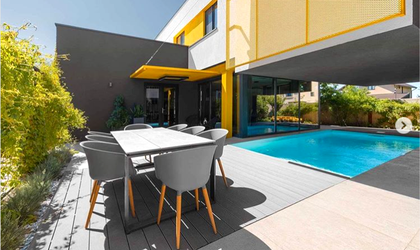 Knowing what to do with your property during an economic downturn can be tricky. The choice to sell in order to buy property with potential or hold on to what you already own can be daunting, especially in the face of economic uncertainty. Whilst you may be tempted to sell up, especially in the case of needing extra space in the home for an office or bedroom, there are some benefits to staying put, and you might even add extra value to your home. 
After a period of sustained growth, Romanian real estate platforms have reported a dip in the prices of apartments in large cities during April. Luxury apartments seem to have been exempt from the trend, but the volatility of the markets suggests that now is the time to remortgage and make the most of your current space until a period of market stability. It is expected that when tourism picks up, the market for second homes in rural areas will continue to grow, as foreigners begin to look for second homes once again.
If you're looking to relocate, there is no way to get out of buying somewhere new, but if it is space that you're looking for, there is an argument to be made for remortgaging. During periods of downturn, lenders are less likely to offer a new mortgage, which can prohibit many people from buying a new home. However, if there is a way that you can make your current home work for your needs, then it might be a better fit to stay put and make the home improvements that you need. 
If you're lucky enough to currently have a mortgage, remortgaging offers the opportunity to add value to your home without having to approach lenders for a new mortgage. In many instances, you don't need a home valuation to remortgage your property. An online mortgage adviser service such as Trussle can offer remortgage advice online if you're thinking about remortgaging. Unlike applying for a new mortgage, you don't need to be physically present, and by using their comparison service you could find the right remortgaging solution for you – remotely.
By investing in your current property, you can add value for when the time comes to sell. If you're choosing to remortgage to make home improvements, consider the improvements which might add significant value. In most cases, an extra bedroom or office space will garner more interest from buyers in the city. If you're in the location to make a holiday home, landscaping the garden or adding a pool might turn your property into a lucrative option for those looking for a second home.
 

View this post on Instagram

 
In times of economic downturn, you would be forgiven for thinking that remortgaging is not an option, and that you shouldn't make any investments. However, it might be more than just an option: remortgaging could be a savvy way of creating the home you need and all the while adding value to your property. When the time comes to sell, you will have had the opportunity to enjoy the home that you created, and you will have hopefully created a modest profit which allows you to buy a home to suit the next chapter in your life.