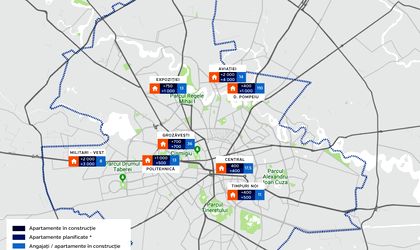 The middle market segment has reached a majority share of the dwellings under construction in Bucharest and its surroundings, for the first time in the modern history of the local residential market, according to "home _ office Report 2019" issued by real estate consultant SVN Romania. Over 7,000 apartments should be delivered in 2019 in Bucharest in the immediate vicinity of an office project, while another 10,000 units could be ready in these areas in the next 12-18 months.
The best ratio between the number of employees working in an area and the number of residential units under construction, scheduled to be delivered in 2019, is in Militari-West, 8 to 1, while Dimitrie Pompeiu-Pipera South has the weakest ratio, of 110 employees for every apartment under construction.
"The constant increases in revenues have determined investors to build in areas closer to the large business office parks in Bucharest. The share of the middle market segment, represented mainly by residential projects located near an office project, has increased from 17 percent in 2015 to 51.5 percent this year. There are pre-requisites for reaching a balance between supply and demand, especially in areas like Barbu Vacarescu – Aviatiei, Politehnica or Timpuri Noi, which must translate into a need for more thorough investment plans", stated Andrei Sarbu, CEO SVN Romania.
In Bucharest's most important office pole, Barbu Vacarescu – Aviatiei, 2,000 residential units will be delivered by the end of the year, which translates into a ratio of 14 employees for every delivered unit. At the same time, SVN's data show that 4,000 additional residential units are planned for the immediate period.
The significant increases in office deliveries in the Grozavesti area led to a ratio of 36 employees for every apartment due to be delivered in 2019, while in Expozitiei, another relatively new office destination from Bucharest, there are 13 employees for every unit scheduled for delivery – the biggest share of office deliveries are scheduled there for the next years.
Moreover, Expozitiei, Grozavesti and Dimitrie Pompeiu – which has the weakest ratio, of over 110 employees working here for every apartment under construction – have a higher development potential, taking into consideration the absence of dwellings delivered prior to 1990.
"Although we all want a stock of residential units made exclusively for renting, the disproportionate ratios at this moment translate into a constant demand and, in the absence of macroeconomic dysfunctions, investors will continue to develop primarily for selling. In the short to middle term we will see an increase of mixed projects, with office, commercial spaces and residential units under the same roof, and also to new development destinations within the city, such as Bucur Obor or the East of Bucharest," added Andrei Sarbu.
SVN Romania is one of the biggest real estate consultants active in Romania, and also has a regional office in Cluj-Napoca. The company is the leader of the residential market and one of the most important players on the property management segment. SVN Romania also operates a brokerage division – SVN Romania | Credit & Financial Solutions. SVN International Corp. has over 200 offices in eight countries and regions (Australia, Caribbean, South Korea, Mexico, Romania, Russia and USA, with over 1,600 real estate consultants.