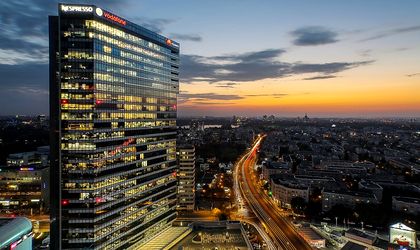 European residential and commercial real estate investment volumes are set to reach EUR 241 billion by year-end, 18 percent down on last year's total, but just 2 percent below the 10 year average, cccording to report by Savills. Bucharest is on the top of the yields among the European cities.
"Despite the well-publicised political headwinds in some regions, there is still unprecedented global liquidity driving demand for real estate in Europe," assures Marcus Lemli, Head of European Investment, Savills. "The limited availability of quality product, coupled with investors holding onto assets for longer, is also significantly responsible for restricting transactional activity in Europe." With this in mind, the international real estate advisor has identified some top tips for investors looking for Core, Core + and Value-add opportunities over the next twelve months.
Yields are stabilising for offices, hardening for logistics and softening for retail at European Level. "We forecast prime office CBD yields to harden in Belgium, Czech Republic, France, Greece, Luxembourg, Romania, and Sweden, supported by resilient investor interest. Prime office yields have stabilised in over half of the markets, but they are 4 percent or lower in almost all markets covered in this report, with the exception of Lisbon (4.25 percent), Warsaw (4.5 percent), Manchester (4.75 percent), Athens (6.25 percent) and Bucharest (7.15 percent)," shows the report.
Logistics yields are compressing fast across markets, an average of -47bps yoy this quarter, pricing in positive sector outlook. Looking forward over the next 12 months, further industrial yield compression is expected across Czech Republic, France, Germany, Greece, Poland, Portugal, Romania, Spain and Sweden. In all other markets, industrial yields are forecast to remain stable.
Some softening of yields in the retail sector is forecast in Belgium, Czech Republic, Ireland, Norway, Portugal, Spain, and UK markets. Romania is the only market forecasting any inward movement of yields in the retail sector in the next 12 months as a mismatch between buyers and sellers.
"After the announcement that FTSE Russell reclassified Romania from frontier to secondary emerging market effective from September 2020, the transformation of the real estate market has accelerated more rapidly than forecasted initially. Moreover, the last investment transaction, the acquisition of Day Tower marks a new era for the Investment market. The compression of prime office yields we have seen over recent years, as well as the capital diversification will most likely determine an increase of the liquidity and investors' confidence, and subsequently a re-positioning of the Romanian market, as a destination that can no longer be ignored by large investment funds," says Codrin Matei, Managing Partner, Head of Capital Markets at Crosspoint Real Estate.
Core & Core + opportunities:
In H1 this year offices accounted for 41percent of the total investment volume and given the tight supply situation in many CBD markets, Savills predicts that prime offices in European capital cities will still be a top pick for investors over the coming twelve months. Overall, core investors should continue looking at prime offices in European capital cities, including Amsterdam, Barcelona, Bucharest, Copenhagen, Dublin, London, Luxembourg, Madrid, Milan, Paris, Prague, Stockholm and Warsaw.
"Due to the limited availability of quality product and rental costs in some CBDs, prime office schemes located in peripheral areas well served by public transport will also become increasingly attractive. From an occupier perspective, increasing traffic congestion in city centres, lengthy commutes, and the adoption of agile working, are tempting talent away from the traditional CBDs to new lively commercial hubs," says Lydia Brissy, Director, Savills European Research.
Romania Core opportunities: Prime offices & Large retail schemes are considered. With a 4.4 percent GDP growth in Q2 2019, Romania has exceeded expectations from both the European Commission and the National Bank. The first half of 2019 has registered a high take-up in office space buildings in the capital and regional cities. In Bucharest, over 35 percent of the spaces were pre-leased and the vacancy rates in sought-after central areas are reaching an all-time low. Large retail schemes are also an attractive asset in the Romanian market, mainly due to a 6.8 percent yoy increase in consumer spending.
Value-add opportunities:
Savills is suggesting investors look for value-add opportunities in European cities where the solid fundamentals support strong demand for office development or refurbishment, in both prime and non-prime locations. Such cities include Stockholm, Paris, Luxembourg and Lisbon.
The Netherlands, Denmark, and Poland, all have a high rate of e-commerce penetration in their retail markets, which means that good logistics schemes are becoming scarce. This will put upward pressure on rents, and, according to Savills, offer some good value–add opportunities for investors.
Romania- value-add opportunities: Secondary offices in peripheral Bucharest.
As demand for office space drifts away from peripheral areas and towards central Bucharest, the low availability of land plots raises the potential of older office buildings located in key secondary areas near metro stations, especially since the traffic in Bucharest is expected to reach record limits. Given the very low unemployment rate (4.2 percent in 2018), in their race to win and keep the best-qualified employees, employers will have two options. Either to lease a well-connected A+ class office space or to choose multiple flexible spaces throughout the city.
"There is an increased interest in hotels as an investment destination, that can be seen through the number of developments started last year in Bucharest as well in secondary cities, given that more and more investment funds target a diversification of their portfolio. There is an old stock of such assets requiring renovation, but the sluggish process of obtaining all the necessary permits or the various unclear situations in terms of ownership documents limits the progression of this market segment that has a very good growth potential," adds Matei.

"As prime opportunities in traditional property sectors are becoming rare and competitively priced, investment strategies are shifting more towards alternative assets.  Europe's demographic trends and thriving urban centres have created increasing demand for housing, which is working in investors' favour as, after offices, residential property is now the second most popular asset class for real estate investment globally," says Marcus Lemli.