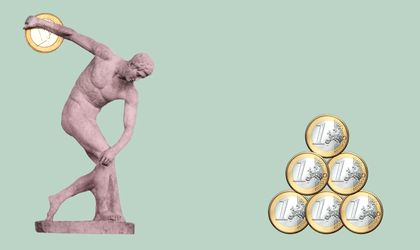 Flex space could help companies cut their costs by up to 60 percent.  Firms in Bucharest can save hundreds of thousands of euros, which could be invested in further business development. That's very significant in such a financially challenging time. Instead of resorting to gambling, there's now an algorithm you can use to better understand your office space investment risk.
Fifty percent of workplaces will have to engage in the ultimate balancing act: combining traditional office spaces with work-from-home and third-party solutions. On every continent, a perplexing question is being asked by HR teams, CEOs, and employees alike: How can we go back to work after months of telecommuting and what will it look like?
At Mindspace, the workplaces have always been hybrid and flexible. For most companies, the answer will not be an all-or-nothing solution, but rather something balanced. We will go back to the office because it represents more than the work we do at our desks. But we won't have to go back to the same old ways, either: we've learned that life and business carry on even when we stay at home.
But what's more cost-effective for employers? Bringing everyone back to the office, keeping them at home or something in between? There's a way to know for sure.
"At Mindspace, we thrive among assumptions. We know that creativity, originality, and functionality happen when we share both space and ideas. We've been in the shared office space industry for years and now we've created an algorithm, in the form of a calculator, to show businesses how many thousands of euros they can save by shifting to flexible workspaces. It's easy to use: enter the specifics and the workplace benefits will be calculated in clear amounts." Mindspace representatives told BR.
Nowadays, flexibility and cost-effectiveness are the best weapons, especially in the short term. To grow their business and keep things flexible, employers must think about possible ways to cut costs. Why pay 24/7 for that conference room that's only getting used once or twice a week? What about the lounge? The lobby? The restrooms? Those costs can be split and spread out. In turn, the business can be strengthened and steadied.
"Here's an example: our calculator estimates savings of roughly EUR 179,000 over three years for a company of 25 people when choosing a flexible office over a traditional office in Bucharest. The amount saved depends on specific parameters, but the savings come from slashing costs related to cleaning, maintenance, internet, equipment, and insurance. Our thinking is clear: split the cost of these services with other companies instead of spending your time planning them out and taking on the full costs." Explained Mindspace representatives.
Switching to flex space could save up to 60 percent of costs, which can translate into an investment, a potential building block. The right business decisions are worth more than ever right now. The right data is what drives those decisions. And we're here to offer support.