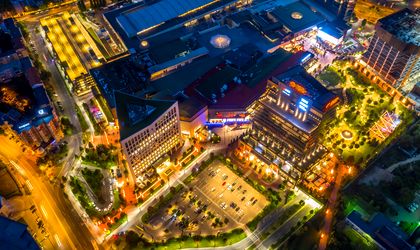 Real estate developer IULIUS is investing EUR 120 million in Palas Campus, which will add 60,000 sqm premium offices and it will consolidate the regional business hub created in the city centre via Palas Iasi. The project will be based on the principles of wellbeing and will highlight the economic and social role of mixed-use schemes on the Romanian market.
By Ovidiu Posirca
How can mixed-use projects support the regeneration of some urban areas?
IULIUS specialises in developing mixed-use projects and was the first to make such an investment in Romania, namely in Palas Iasi (opened in 2012). Last year we opened Iulius Town Timisoara, our second mixed-use project, while Iulius Mall Cluj-Napoca was supplemented with mixed-use elements. We are the only company developing urban regeneration projects that are so complex in terms of both their magnitude and their positive impact on communities.
Our projects go beyond their functional role to become genuine poles of urban attraction. Aside from revitalising underserved or underdeveloped areas, giving them back to the community, and reintegrating them into the urban landscape, our investments are regional and have the ability to attract new opportunities for economic growth and better living. The mixed-use projects developed by IULIUS are successful thanks to their unique concept, where office, retail, and entertainment uses gravitate around public gardens. These sustainable projects are organically integrated into community life, activating the economy in their respective areas and acting as regional business hubs, supporting local entrepreneurship, and providing residents with an open venue for socialising and leisure activities.
What is your outlook on the local real estate sector following the initial impact of the medical crisis?
The current context is obviously very challenging. We have experienced equally difficult times before and learned that adaptability is crucial. The IULIUS projects are envisioned as open-air districts marking the ground zero of their respective cities, which make life easier and provide multiple experiences and services within a single venue. They have been reconfirmed as destinations of choice for a diverse audience even during the pandemic. Mixed-use projects are consolidating their economic and social roles via their signature flexibility that includes open venues, outdoor terraces, and parks accommodating cultural and artistic events in major cities, as well as through the complementarity of their uses.
What are your development plans in the mixed-use segment going into 2021 and what does it mean in terms of new investment volumes?
Our developments address real demand, which is what prompted us to continue developing the business segment in Iasi via the Palas Campus extension. Despite the pandemic, this summer we started construction works for the EUR 120 million extension, a mixed-use project in itself that repurposes an undeveloped central area and accommodates the largest premium office building in Romania (60,000 sqm). Based on the wellbeing concept, the project is adapted to the new context and includes ample outdoor coworking spaces (a first in the region), a new food market concept, a medical hub, a new park, and a service area promoting local producers.
Upon its completion (around 2022), Iasi and the entire region will gain an extended business district generating 5,000+ jobs, as well as a larger, modern, dynamic, and easily accessible city centre.