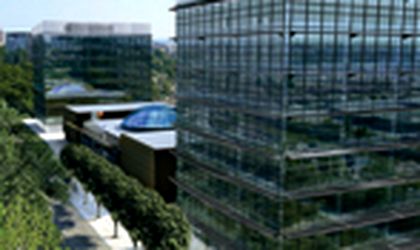 So far, developers Andrew Stear and Teodor Pop's up-for-sale real estate projects have gone to Immoeast. "When we had projects on sale, they offered the correct price," says Pop. But the two are now negotiating with other large investors and might conclude soon another sale involving a retail project. Pop and Stear, who run together Real Estate Development (RED) in Romania, have started a collaboration with Immoeast with an advantage. Stear's first big project in Romania, Iride business park, was actually Immoeast's first purchase in Romania. Despite having sat at the table with large real estate investors and the company's plans to invest up to EUR 1 billion in Romania and in the region in the next five years, Pop says RED is only a small-to-medium company. "We are not large investors, but we do our job at a constant pace," says Pop. Financially backed up by investment funds Warburg Pincus and GED, RED has already announced EUR 500 million of real estate projects in Romania, and now plans to go abroad, making its home country a regional investments hub. Bulgaria, Ukraine and Turkey are in their sights. Romania should however continue to receive the bulk of their investments, with an additional EUR 500 million to be spent in the next five years. "It depends on the market, on its fluctuations, on how we are able to organize ourselves," Pop says. The amount includes equity, financing and alternative financing for the projects on the cards, and it could be even higher, as RED has thought of some larger projects than those it has announced so far.
Pop and Stear got together in 2005, when Pop was looking to meet a top developer active locally to help him pursue his real estate plans. "A friend working with Linklaters law firm sent me to meet Andrew Stear. At the time, we were both trying to leave the structures we were involved in," says Pop.
Pop was already working in real estate, after having left his general manager position with Coty Romania. In 2003, he was co-investor and development manager at Nord Grup. "It was a business I started with some friends. We invested mainly in residential and it brought us promising results," he says.
He attended the main real estate conferences in the world to understand the ways of the market. "This is how I started to learn real estate," says Pop.
While real estate traveling, Pop tried to attract funds to invest in Romania, but nobody was interested at the time. "In 2005, it all started," he says. And it all started then for Pop and Stear as well, as they signed agreements with investment funds Warburg Pincus and GED, and went on to create the RED structure.
Although Romania receives attention from foreign developers and investors, the country has failed to fully exploit it. "The attention it has received over the last two years has not been accompanied by improvements in infrastructure to keep up with the pace of investments. The gap will be obvious, and investments will slow down, as developers will switch their interest from Romania, at least for the time being," says Pop. He believes the value of money invested in Romanian real estate is lower than in other countries in the region, due to the lack of proper investments in infrastructure.
He expects to see a correction on the real estate market soon – not on all market segments, and not in all cities at once. Bucharest is already too risky, especially for retail and offices, he says. To protect itself against a possible crash, RED has opted to pursue retail, residential and offices, but only outside Bucharest. The company has kept only one of the two planned residential projects in Bucharest – Natura Residence, which is being developed in partnership with Grupo Lar. It has two residential projects in Iasi and a EUR 190 million business park in the same city, trying to replicate the success of Iride. Moreover, RED is planning four small retail projects this year in cities between 20,000 and 50,000 inhabitants, and has already bought the necessary sites.
The firm has avoided office projects in Bucharest as it had expected market oversupply this year. "But 2008 is a good year to start offices, as delivery will be in 2009 or 2010," Pop forecasts.
Residential is as much of a sore point as a market segment with potential, because developers don't have enough information to make correct investment decisions on this asset class. "No one knows exactly what the structure of demand for residential is, nor the number of interested buyers who actually have the money to buy, and data is poor on how many end users and how many investment funds buy into these projects," says Pop. But he still thinks residential has a high potential, so RED is planning to gather all these missing data and launch a residential division in the middle of this year.
The market correction will not be triggered just by local reasons. Romania was not greatly affected by international changes last year, and the financial markets were stable for developers active in the country. "I don't think the calm will last this year in Romania; the international changes will affect the market," Pop predicts.
A change in the financial structure of investments will be one of the main effects of the international impact. Last year, RED used the 20 percent equity-80 percent debt recipe, but Pop expects to switch to 40-60 or even 50-50 financing.
A market correction does not scare RED. "We always have backup plans. When we buy a plot, we always know what we want to build on that plot, and the memorandum we submit to our board already includes the project's masterplan," says Pop. The firm has so far invested EUR 200 million in land, and each plot acquired has not only a plan A, the intended development, but plans B and C as well, in case the market crashes. "We have land for which plan C is to grow coriander. We have found buyers and sellers of coriander, so we could recuperate the investment in five years," said Pop. Real estate developers need to work both when the market is up and when it is down, he concludes.
By Corina Saceanu