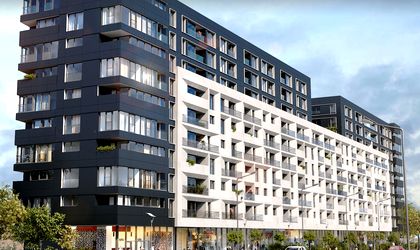 The construction of homes and offices recorded a good year in 2019. With 62,000 new apartments delivered to the market, 2019 passed the previous record of 57,600 from 2018. There was also a record level of transactions in the office sector, with over 450,000 square meters changing owners.
In the big cities, 40,000 old apartments and 15,000 new ones were put up for sale. Prices went up by 7 percent in 2019 compared to 2018 for old housing and by 10 percent for new apartments, according to imobiliare.ro data. The price difference in Bucharest between new apartments in the central area versus those the suburbs was EUR 40,000 (EUR 93,000 versus EUR 53,000), up from EUR 30,000 in 2018. For old apartments, the price difference was EUR 16,000 (EUR 77,000 versus EUR 61,000), up from EUR 15,000 in 2018.
The acquisition of land for new developments also reached high levels in 2019. According to data from real estate consultancy firm Cushman & Wakefield Echinox, a number of large real estate developers have secured the land they needed for new projects consisting of over 6,000 homes and 130,000 square meters of offices. The cumulative area of the purchased land amounts to 36 hectares, and the value of transactions is estimated at EUR 170 million, which is equivalent to an average price of EUR 470 per square meter.
In Bucharest, there were 24 major transactions with land intended for the development of residential, office or mixed-use projects, with some projects also potentially including a hotel. An interesting fact is that almost 90 percent of the traded area was located in sectors 1 and 2, as developers are focusing on the central area of the city through purchases made on Calea Victoriei, Dorobanti, Kiseleff or Doamnei, but also on the central-northern area, near the big office hotspots.
"In 2019, developers' interest for office projects was reconfirmed and it materialised through their concern to secure their pipelines for the coming years. The same trend is confirmed in the residential segment, and we can note an expansion of the areas of interest and the coverage of some developers, who have made much more diverse purchases outside the traditional areas of interest. As for the buyer's profile, we've noticed the entry of developers from other cities on the Bucharest market, as well as decisions by some landowners to start projects of their own, positioning themselves as new developers on the market," said Alexandru Mitrache, Head of Transactions, Land & Investment, Cushman & Wakefield Echinox.
Land under former factories seen as "gold mine" for real estate
Among the most important land transactions of 2019 were the purchase of a 2.6-hectare plot from the former Dacia Textile factory in the Bucurestii Noi neighbourhood (where Skanska will build an office project), the two hectares of the Frottierex factory in the Barbu Vacarescu area (where Turkish Caba Grup will develop a mixed-use project) or the 5,000-sqm plot on Doamnei street, in the heart of the Capital, purchased by S + B Gruppe.
Developers with Romanian capital, such as One United, were the most active in 2019, having had a share of about 39 percent of the total transaction value. "At the same time, the return to the land acquisition market of Austrian developers such as Strabag Real Estate, S + B Gruppe or S Immo was a notable move, while Israeli developers were very active as well," Alexandru Mitrache added.
Bucharest has turned into one of the most dynamic economies in the CEE region. This is closely related to its labour force, which offers a nice mix of good language skills and much lower costs than Western Europe. Romania and Bucharest do have a couple of things that set it apart from regional peers and even from more developed markets in Europe: a very strong IT&C community.
"While vacancy is expected to be on the rise over the next couple of years, there are some silver linings. Bucharest still has quite a lot of stock built about a decade ago and part of it would not meet today's qualitative/technical standards. Vacancy tends to vary quite a lot from one submarket to another and even among projects in the same submarket. Furthermore, on a relative (per capita) basis, Bucharest's office surface is still around one third below Warsaw's, which is also significantly below Western European markets, so there might still be quite a lot of room for growth," said Sebastian Dragomir, Office Advisory Director at Colliers International Romania.
Demand for small industrial spaces
The demand for industrial and logistics spaces in Romania in 2019 reached a total of about 476,000 sqm, a value comparable to that of 2018, when transactions amounted to a total of 514,000 sqm. Bucharest attracted the largest demand of industrial and logistics spaces in the country, with nearly 76 percent of total purchases (approximately 360,000 sqm), followed by Slatina, with 13 percent of the demand (62,000 transacted sqm).
The largest transaction was carried out by JLL Romania, namely the lease of almost 72,000 sqm by Profi in CTP Bucharest West park. Other notable transactions in which JLL was involved in 2019 were the lease of 16,000 square meters to Urgent Cargus in the P3 Bucharest A1 Park and the lease of 8,400 square meters to Marelvi Impex in the MLP Bucharest West Park.
Of all the spaces leased nation-wide over the last year, more than 150,000 square meters (approximately 32 percent) represented transactions concluded directly between owners and tenants.
The growth in 2019 rose to the previous year's level, when record demand for industrial spaces had been recorded on the market.
"The demand for industrial spaces has maintained its positive evolution over the past few years. The entry of new investors and the diversity of the locations in which they're developing new projects has brought extra competition on the market, maintaining its dynamics. We follow the evolution of demand with great interest, bearing in mind the fact that the industrial market reported record demand over the past four years, especially given the expansion of retail and logistics companies," stated Costin Banica, Head of the Industrial Department at JLL.
Also noticeable was the increase in production and industrial spaces from companies operating in the automotive sector. However, these types of projects have longer implementation periods, extending by up to 18-24 months from when the first discussions take place. In the case of logistics projects, the implementation period usually lasts up to one year.
In 2019, the stock of modern industrial spaces exceeded 4.3 million square meters, which was double the volume recorded in 2015.
Another trend in 2019 was developers' high interest in attracting clients with spaces that are small but show great growth potential. Such clients, most of whom are currently located on the former industrial platforms in large cities, will have to migrate to modern industrial spaces in order to provide better work conditions for their employees, but also to comply with stricter regulations regarding fire safety permits.
"We can see increased interest from new investors in developing modern industrial projects within the city of Bucharest. Here we can refer both to projects that allow the leasing of smaller units of 800-1,500 sqm, as well as large units in industrial buildings spreading on several floors. These types of buildings are taken into account in areas in which the price of the land is high and an industrial development would not provide the level of performance expected by investors. We believe that 2020 will bring the first industrial projects developed on multiple floors in Romania," said Costin Banica.