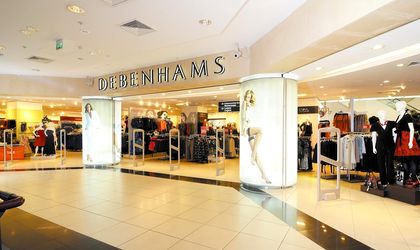 Rafar, the fashion franchise division of RTC Holding, has opened a new Debenhams store in Bucharest. The 1,000-sqm shop required an investment of EUR 700,000. Located in the Sun Plaza commercial center, it is the seventh outlet in the network and the eighth that Rafar has set up in Romania and the Republic of Moldova since it brought the brand onto the local market in 2007.
"Given the difficult year we are going through, the sales expectations for the short term are not very high. I am convinced though that the decision to open a Debenhams store in the newest mall in the southern part of the city will be a profitable one long term, once the mall becomes an established shopping destination within a year or two," said Ramona Stanciulescu, CEO of Rafar.
Other Debenhams outlets are present in Bucuresti Mall, Plaza Romana, Baneasa Shopping City, Sun Plaza, City Park Mall of Constanta, Polus Center in Cluj, Lotus Center in Oradea, and Shopping MallDova in Chisinau, with a total selling area of 12,000 sqm.
Rafar has 27 stores with a total rented space of 15,000 sqm, and owns the franchise rights for brands such as Debenhams, Aldo, Olsen, Mandarina Duck, Kanz, Pablosky, Forever 18, Bijoux Terner, J.Press, Bruno Magli, Fratelli Rossetti, Wolford, Burlington, Rockle, Pedro Garcia and Kipling.