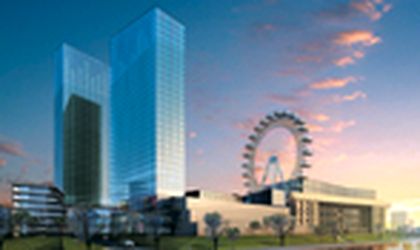 Plaza Centers owns 75 percent of the Radio House project, a mixed development built in public-private partnership. The company's second most valuable project upon completion will be Iasi Plaza, estimated to be worth EUR 239 million, followed by Timisoara Plaza, worth EUR 227 million.
Plaza Centers has seven projects underway in Romania, totaling 587,000 sqm of retail and mixed-use area, according to the developer's latest financial report. Apart from the Radio House project, where construction works started last year, Plaza Centers has also started work on a 14,000-sqm shopping and entertainment scheme in Miercurea Ciuc. Four other retail projects in Iasi, Timisoara, Slatina, Hunedoara and Targu Mures are in the planning phase. The biggest of these are Timisoara Plaza and Iasi Plaza, each covering some 71,000 sqm. The others cover 20,000 sqm to 30,000 sqm each.
Plaza Centers has a 50.1 percent stake in the Plaza-BAS joint venture. Currently the joint company holds five residential projects and two office projects in Bucharest, Brasov and Ploiesti with a budget of EUR 290.4 million and expected sales value of EUR 410.6 million.
The Plaza-BAS joint venture holds stakes between 25 and 50 percent in the 18,000-sqm Fountain Park Residential project in Bucharest, in Acacia Park and Green Land Residential projects in Ploiesti, of 30,000 and 24,000 sqm respectively, and in the 9,600-sqm Carino Tower office building in Ploiesti. In Brasov, it controls a 150,000-sqm residential project called Poiana Brasov, a EUR 155 million development, the 35,000-sqm Pinetree Glade residential project and 10,000 sqm of offices in Primavera Tower.
Plaza Centers also owns 700 sqm of offices in the Palazzo Ducale office building in Bucharest, according to the same report. Romania is Plaza Centers' top country in terms of underway projects in a single country, as it holds seven of the 30 fully-woned planned developments for the Central and Eastern Europe region. Seven additional projects are underway in Romania as part of the joint venture with BAS.
Corina Saceanu