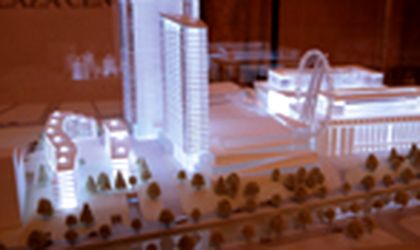 Overall, the company is developing commercial and retail spaces totaling 700,000 sqm in Romania, including investments in Slatina, Iasi, Timisoara and Miercurea Ciuc. Commenting on the deal, Ran Shtarkman, president and CEO of Plaza Centers, said: "With a catchment area of 580,000 people within a 30 km radius of this planned project in Targu Mures, we see this as an excellent opportunity to offer a new shopping and entertainment experience to people. We continue to see strong demand from both tenants and shoppers for this type of project in Romania and we continue to look for further opportunities in the area and across the rest of our target markets."
The company's best known and most expensive project is Casa Radio. In November 2007, Plaza Centers, along with Elbit Medical Imaging, took over 75 percent of Dambovita Center, the company working on the Radio House project in Bucharest.
Casa Radio public-private partnership, of which the state owns 15 percent, is expected to up the value of Plaza Centers' assets by EUR 85 million, according to company estimates.
Plaza Centers, along with Elcint and Insightec, are part of the Israeli Elbit Medical Imaging group. The main shareholder in the group is Europe Israel Ltd. The EMI group is listed on the American stock exchange Nasdaq. EMI announced last year plans to develop a chain of commercial centers under the Plaza Centers brand around Romania, with two such outlets scheduled for Bucharest.
Magda Purice