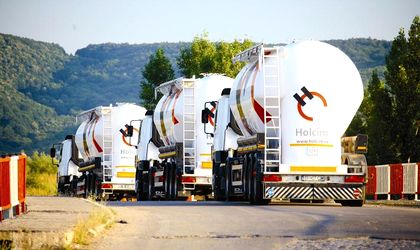 Construction materials producer Holcim saw a drop of 19 percent in its sales volume of domestic clinker and cement, compared to its 2008 results, according to the company's recently issued financial report. Domestic cement prices were up 1.5 percent in local currencies last year on the previous, according to the firm.
The drop in Holcim's sales was higher in other countries in the region than in Romania. On the Slovakian market, it saw a decline of 47.8 percent, while in Bulgaria its sales volume plunged 46 percent. The Russian market was down 33.6 percent for the firm.
Romania, Azerbaijan and Croatia brought the lowest sales volume falls for Holcim. In Russia, clinker and cement prices sank 38.2 percent, in Azerbaijan 13.4 percent and in Spain 15.5 percent, the biggest price decreases for the group last year.
"The construction sector in Eastern and South-Eastern Europe experienced a major decline. In Hungary, Romania and Bulgaria, private construction activity all but ground to a halt and a large number of public-sector infrastructure projects ceased because of the crisis," said Holcim.
The producer posted EUR 13.9 billion in worldwide sales last year, down 11.5 percent on 2008. Its operating EBITDA fell 8.6 percent, to EUR 3 billion last year.
"After suffering a severe downturn in the first half of the year, the eurozone economy stabilized. Many Western European countries saw a return to some modest growth. However, over the year as a whole, output declined. In the countries of Eastern and South-Eastern Europe, which are very much dependent on foreign investment and manufacturing exports, the situation remained difficult," the company stated in its financial report.
Holcim runs three factories in Romania, in Turda, Campulung and Alesd, as well as 20 ecological concrete work points and five aggregate work stations.
Corina Saceanu